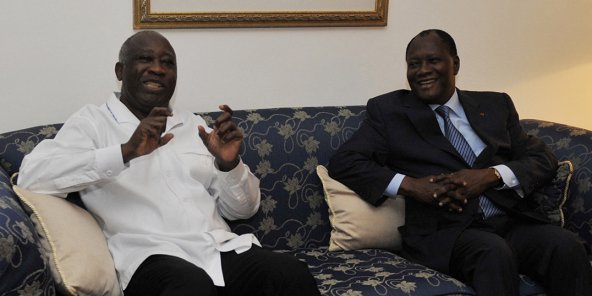 A hug and smiles: Ivorian President Alassane Ouattara received his predecessor Laurent Gbagbo on Tuesday in an atmosphere of reconciliation, for their first meeting since their duel in the 2010 election that led to a deadly crisis.
"How are you Laurent? Glad to see you," Ouattara told Gbagbo as he greeted him on the steps of the presidential palace in Abidjan, where the two men embraced and walked hand in hand.
They both spoke to the press after a one-on-one meeting lasting nearly an hour.
It is hard to imagine that a bloody war was waged between supporters of Alassane Ouattara and Laurent Gbagbo just ten years ago. They took turns to speak in a very brief manner.
First, Laurent Gbagbo said that during the meeting with President Alassane Ouattara to have addressed the subject of political prisoners detained since the deadly post-election crisis of 2010-2011, which is the basis of the tear between the two camps for ten years now.
And I'm very happy with this discussion that we had. I'm very happy, because it was very relaxed and I'm proud of that… I wished that, from time to time, we could have this kind of talks that relax the atmosphere in the country. As far as I am concerned, with the president, I insisted on the prisoners arrested at the time of the 2010-2011 crisis and who are still in prison. So I told the president – and you will agree with me – that I was their leader and I am out today. They are in prison. And I would like the President to do everything he can to free them. I insisted on that. Apart from that, we talked about the Ivory Coast which must move forward!
President Alassane Ouattara, who began by thanking his interlocutor, calling him a "young brother," also offered his condolences to Laurent Gbagbo for the death of his mother, who died while he was detained at the ICC. This reminded Ouattara that his own mother died while he was in exile in France in the mid-2000s, and that Laurent Gbagbo, then president, facilitated his return. He assured that other meetings with his predecessor are to come after August according to the president. Meetings that will be extended to other figures of the Ivorian political scene.