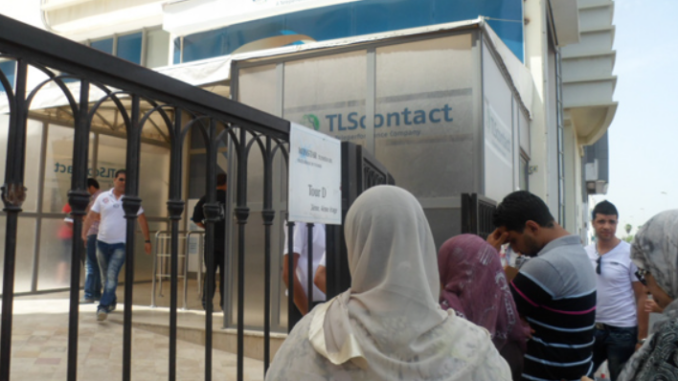 France is planning to flash out 3,424 Tunisians this year as the European country tightens visa issuance for citizens of the North African country, as well as from Morocco and Algeria.
Gabriel Attal, spokesperson for the French cabinet said Paris has decided to reduce by 50 per cent the number of visas granted to Moroccans and Algerians, and 30 per cent for Tunisia.
The move, Attal said, is in response to the three countries reluctance to receive their nationals unwanted in France.
"It is a drastic decision, an unprecedented decision, but it is a decision made necessary by the fact that these countries do not accept to take back nationals that we do not wish and cannot keep in France," Attal said.
The number of Tunisians on the expulsion roaster is on the increase, by 43 per cent compared to last year.
Morocco reacted on Tuesday to French authorities's decision to reduce sharply the number of visas issued to Moroccan nationals amid a presidential campaign increasingly focusing on immigration.
Morocco's Foreign Minister said the French decision was "unjustified" and "does not reflect the reality of consular cooperation in the fight against irregular migration."
"We have taken note of this decision and consider it unjustified for several reasons, the first of which is that Morocco has always addressed the migration issue with the logic of responsibility and the necessary balance between the facilitation of the movement of people (Students, businessmen and others …), the fight against illegal immigration, and the firm treatment reserved for people in an irregular situation", said Nasser Bourita at a joint press conference held in Rabat with his visiting Mauritanian peerIsmaël Ould Cheikh Ahmed.
In 2020, Moroccan nationals received 98,627 Schengen visas issued by France. During the same year, the French authorities issued 63,366 visas to Algerian applicants and 35,122 visas to Tunisian nationals.
In 2019, France delivered Moroccan nationals 346,000 visas, 303,000 visas in 2018 and 295,000 in 2017.