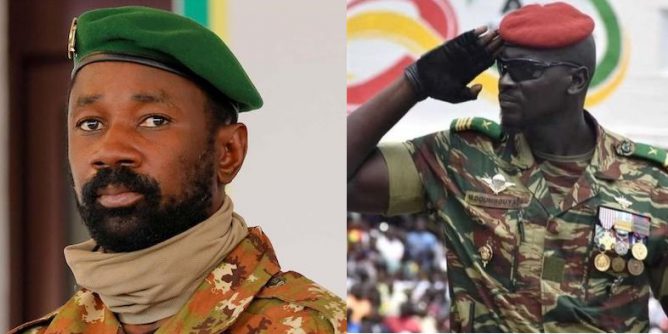 In the aftermath of the sanctions announced by ECOWAS against Mali, the President of Guinea's transitional government, Colonel Mamadi Doumbouya, has expressed his solidarity with his Malian counterpart, Colonel Assimi Goïta. Air and land borders will remain open with Mali, "in accordance with [the] pan-Africanist vision" of Guinea, said an official statement read on public television Monday evening. This support in principle presages another tug of war for ECOWAS.
Colonel Mamadi Doumbouya claims to support a "brother country. However, the two soldiers have not officially visited each other. Colonel Assimi Goïta was absent during the inauguration of Mamadi Doumbouya in October 2021. The latter "has not officially left the country," says a source. And if exchanges between the two men exist, they are quite "discreet," says a diplomat.
Through this declaration by the CNRD, Colonel Mamadi Doumbouya is seeking to "anticipate his own fate" vis-à-vis ECOWAS, according to one observer. Guinea is experiencing the same situation as Mali: Conakry is suspended from ECOWAS bodies, with targeted financial sanctions.
Goïta and Doumbouya "have one thing in common: they both want to stay in power for a long time," notes a civil society actor. Mamadi Doumbouya, who is still in a state of grace, "is also preparing for strong sanctions following the upcoming announcement on the duration of the transition," explains political scientist Kabinet Fofana.