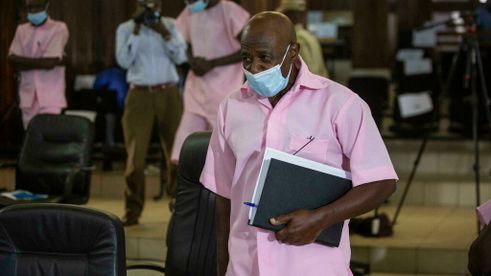 The appeal in the case of Paul Rusesabagina began on Monday. Last September, the 68-year-old opponent was sentenced to 25 years in prison for terrorism, but the prosecutor's office, which had requested life imprisonment, appealed.
During the first hearing in the second instance on Monday, the former manager of the Hotel des Mille Collines was once again conspicuous by his absence. Once again, Paul Rusesabagina's chair remained empty. The opponent had begun boycotting the proceedings shortly after his trial began in March 2021, believing that his rights were not being respected.
Last Friday, his relatives announced that he would not attend the appeal trial either, denouncing it as a staged trial designed to harm a political prisoner. The court therefore debated the possibility of continuing the proceedings without him, because in this case, some twenty other defendants, considered to be members of the FLN rebel group, are also back before the courts.
Like Paul Rusesabagina, they are accused of being involved, from near or far, in several attacks perpetrated in southern Rwanda in 2018 and 2019. These attacks had resulted in a dozen deaths. They had been sentenced in the first instance to sentences of between 3 and 20 years in prison.