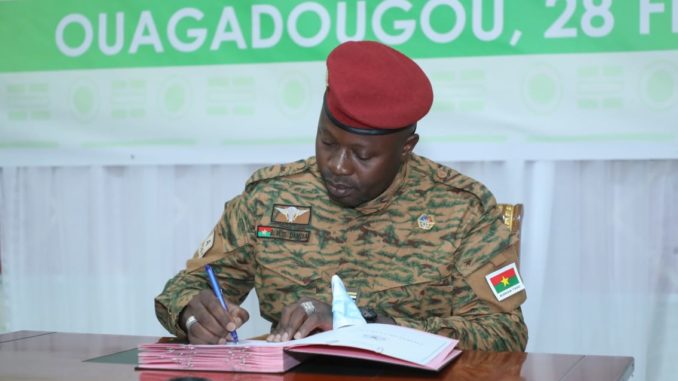 Burkina Faso's transitional president, Lt. Col. Paul-Henri Sandaogo Damiba, named a new government of 25 ministers to lead the country during a three-year transition.
General Barthélémy Simporé, already Defense Minister under Roch Marc Christian Kaboré, the president overthrown by a military coup at the end of January, will keep his post, according to a decree published Saturday evening. He has even been elevated to the rank of minister of state.
Among the other ministers, Yero Boly, several times a minister in various governments of former President Blaise Compaoré, was appointed Minister of State to the President of Faso, in charge of Social Cohesion and National Reconciliation.
Leaders of civil society and trade unions, including Lionel Bilgo (National Education and Literacy) and Bassolma Bazié (Civil Service), have also joined the government.
There are six women in the government, including Olivia Rouamba, who holds the portfolio of Foreign Affairs.
On Thursday, Albert Ouédraogo, a 53-year-old academic, was appointed Prime Minister.
Burkina Faso's new head of state, Lieutenant-Colonel Damiba, 41, took power at the end of January after two days of mutiny in several of the country's barracks, overthrowing President-elect Roch Marc Christian Kaboré, who was accused of ineffectiveness in the face of the jihadist violence that has plagued the country.
The new president has made the fight against Terrorism and the rebuilding of the Burkinabe state his "priority.
The transition period before a return to constitutional order has been set at three years, according to a charter signed by Lieutenant-Colonel Damiba, which prohibits him from running in the elections scheduled at the end of the transition.