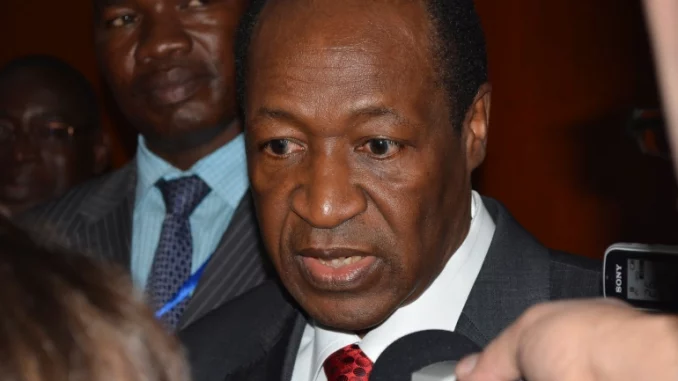 The three main defendants in the 1987 assassination of former Burkina Faso president Thomas Sankara, including former Head of state Blaise Compaoré, were sentenced Wednesday to life in prison by the Ouagadougou military court.
In exile in Côte d'Ivoire since 2014, Blaise Compaoré was sentenced in absentia, as was the commander of his guard at the time of the events, Hyacinthe Kafando, who has been on the run since 2016.
General Gilbert Diendéré, one of the army leaders during the 1987 putsch, who is already serving a 20-year prison sentence for his involvement in a 2015 coup attempt, was present when the verdict was announced.
The three men were convicted of "attacking state security." Blaise Compaoré and Gilbert Diendéré were also found guilty of "complicity in murder" and Hyacinthe Kafando, suspected of leading the commando that killed Thomas Sankara, of "murder".
They have fifteen days to appeal the heavy sentences. The judges went beyond the demands of the military prosecutor's office, which had asked for 30 years in prison for Compaoré and Kafando and 20 years for Diendéré.
"The judge gave his verdict according to the law and everyone appreciates it," said the widow of the assassinated president, Mariam Sankara, who was present throughout the trial. "This is something we asked for, justice and truth," she added, saying, "Our goal was that the political violence in Burkina should end. This verdict will give many people food for thought.