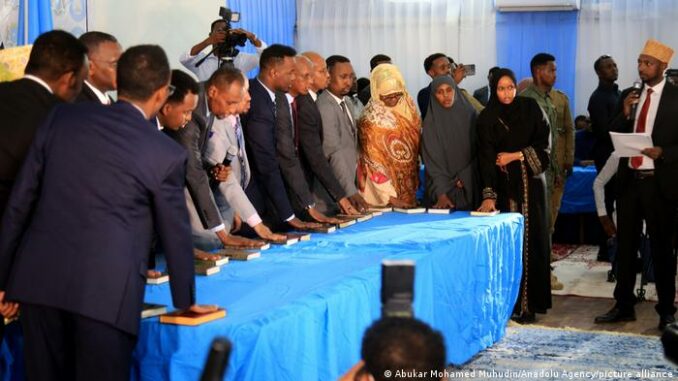 Mortar fire claimed by the radical Islamist Shebab targeted Somalia's Parliament on Monday as lawmakers gathered for an election process to choose a new President.
Explosions were heard in the middle of a parliamentary session broadcast live on television. Several people were injured, but no elected officials were hit by shrapnel that landed in the fortified airport compound near parliament in the capital Mogadishu, officials and a witness said.
"We don't have details yet but these explosions were caused by mortar fire, the lawmakers were inside the building when the incident happened, they are safe," a security official said on condition of anonymity.
"I was in the area when the mortar shells landed outside the building where the parliamentarians were gathered, several people were slightly injured in one of the explosions," said a witness, Abdukadir Ali.
The parliamentarians were to set dates for votes for the presidents of the two legislative chambers, the next step in a long-delayed process to elect a new president to lead the country. The upper house will vote on April 26 and the lower house the following day to select their respective leaders, officials said. The new members of the Senate and People's Assembly were sworn in Thursday after chaotic elections marked by violence and a power struggle between the incumbent president and Prime Minister.
The al-Qaeda affiliated Shebab, who have been waging an insurgency against the Somali state for over a decade, claimed responsibility for the attack in a brief statement. The insurgents, who were driven out of the country's main cities, including the capital Mogadishu in 2011, remain established in vast rural areas. In recent months, they have intensified their attacks.