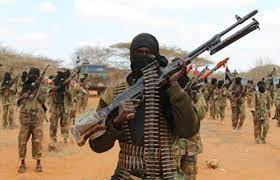 The Kenyan army killed at least 10 elements of the Al-Shabab terrorist group, who were planning to carry out an attack in the country, the Ministry of Defense announced.
The Defense Ministry revealed, in a statement, that members of the Kenya Defense Forces (KDF) became aware of the planned attack and immediately launched a security operation in parts of Lamu County, managing to kill individuals described as "new recruits of the terrorist group.
The gunmen are part of the "Jeysh Ayman" team led by "Maalim Ayman" who had planned to carry out attacks at the Lamu-Southern Sudan-Ethiopia port link, KDF said, noting that during the operation, conducted within the vast Boni forest in the coastal Lamu region, the Kenyan military recovered a rocket launcher, assault weapons and various ammunition.
"One rocket propelled grenade launcher, seven assault weapons, assorted ammunition as well as personal effects were recovered during the operation," the statement said.
The KDF said its troops will intensify operations along the Kenya-Somalia border, along with other security agencies and support from local residents to pacify the area in a bid to get rid of al-Shabab terrorists.
Security officials were quoted by the Chinese news agency Xinhua as saying that al-Shabab have changed tactics and have resorted to using improvised explosive devices (IEDs) to carry out attacks in parts of coastal and northeast regions.
The officials said the militants have been using Boni forest as their hideout and also to launch attacks in the region.
The explosive devices strategically planted along the roads near Kenya-Somalia border are slowing down security operations to flush out militants hiding in the vast Boni forest which is near the Somali border, Xinhua noted.
In another development, the Somali National Army (SNA) said this Sunday its elite forces Danab killed at least 40 al-Shabab militants during security operations carried out Saturday in the Middle Shabelle region, the central part of the country.
"During the operation, about 40 militants, including leaders, were killed and several vehicles were set on fire," SNA radio reported.
The militants still hold swathes of rural areas in central and southern regions conducting ambushes and planting landmines.