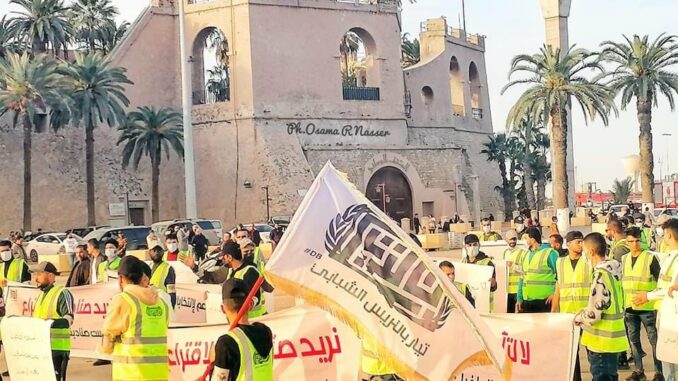 The UN secretary general, António Guterres, has appealed for calm as street demonstrations spread across Libya in protest over power cuts and the failure to hold national elections.
On Friday night, protesters stormed the parliament in the eastern city of Tobruk as anger exploded over deteriorating living conditions and the political deadlock.
"The secretary general is following with concern the demonstrations that were held in several cities in Libya, including Tripoli, Tobruk and Benghazi," the office of Guterres said in a statement.
This weekend, protesters held their biggest rallies in years in the capital, Tripoli, chanting slogans against Libya's feuding political elites, while demonstrators blocked off roads in Benghazi and Misrata and set fire to government buildings in Sebha and Qarabuli.
The country is divided between the eastern-based House of Representatives that appointed Fathi Bashagha as prime minister, and the Tripoli-based interim government led by Abdul Hamid Dbeibah.
As part of an earlier agreement, Dbeibah had committed to stand down when the elections were held but then refused to do so, after which Bashaga made a foiled attempt to capture Tripoli.
In a bid to avoid civil war and counter destructives attempts by some parties that squandered the country's public funds, the Beltrees youth movement called for expediting the presidential and legislative elections, urged Presidential Council to dissolve all political bodies and declare a state of emergency.
It also called for resolving the electricity crisis, departure of all foreign forces and mercenaries from the country and cancellation of the draft decision seeking to remove subsidies on fuel.
"We affirm our determination to continue the path of peaceful demonstration until the last breath to achieve our goals," the Beltrees youth movement, which is mostly focused on online activism over living conditions and was behind calls for protests in 2020, said via social media.