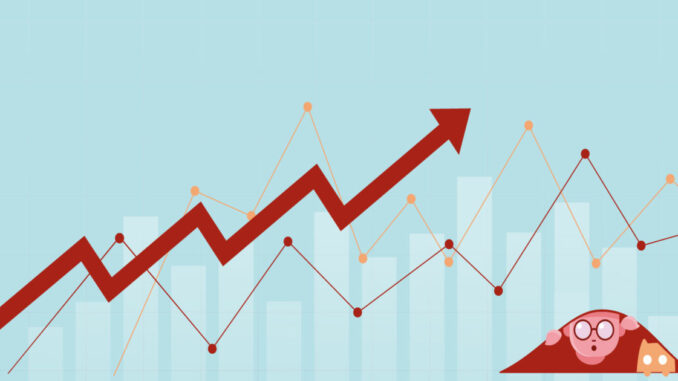 Inflation in Tunisia confirmed its upward trend in August 2022, picking up again to 8.6% from 8.2% in July, 8.1 % in June and 7.8% in May, according to the note on the Consumer Price Index for August 2022, released by the Tunisian Institute of Statistics (French acronym INS) this week.
This increase is explained by growing prices of food products (11.9% against 11% in July), prices of furniture, household items and routine household maintenance group (11.3% against 10.6% in July) and the prices of educational products and services (10% against 9.8% in July).
Food prices went up 11.9% in August 2022, year-on-year. This increase is mainly due to the rise in the prices of eggs by 28.3%, poultry by 22.1%, edible oils by 21.4%, fresh fruits by 18.4%, fresh vegetables by 15, 8% and grain derivatives by 12.7%.
Over one year, prices of manufactured products rose by 8.8% due to the increase in the price of building materials by 9.3%, clothing products by 10.2% and basic household maintenance products by 8.5%.
For services, the 6.1% increase in prices over one year is explained by the rise in prices of restaurants, cafés and hotel services by 8.4% and rents by 4.9%.
The core inflation rate (excluding food and energy) rose to 7.1% from 6.8% last month.
Prices of free products (not regulated) grew 9.8% over one year. The prices of regulated products went up by 5%. Free food products increased by 14.1% against 0.5% for food products with regulated prices.
Consumer prices picked up in August by 0.4%, from 1% in July and 0.7% in June. This increase is mainly caused by the rise in the prices of food and beverage products by 1.4% as well as the prices of educational products and services by 1.3%.
Meanwhile, the World Bank noted in its latest report "Tunisia Economic Monitor"that the trade deficit in Tunisia widened by record 56% in the first semester of 2022, reaching 8.1% of GDP, while the budget deficit, exacerbated by mounting energy and food subsidies, is expected to reach 9.1% in 2022, compared to 7.4% in 2021.
The slow economic recovery from COVID-19 and a delay in carrying out key reforms, including of subsidies, is likely to further strain Tunisia's public finances and deepen budget and trade deficits, warned the World Bank document.
Battered by a series of challenges, the Tunisian economy has struggled since the Arab Spring uprising of 2011, and its problems have been greatly exacerbated by the outbreak of Covid-19 pandemic and President Kais Saied's "constitutional coup," prompting worldwide criticism as the new controversial constitution gives the President large powers, while removing checks from the legislative and judicial branches.