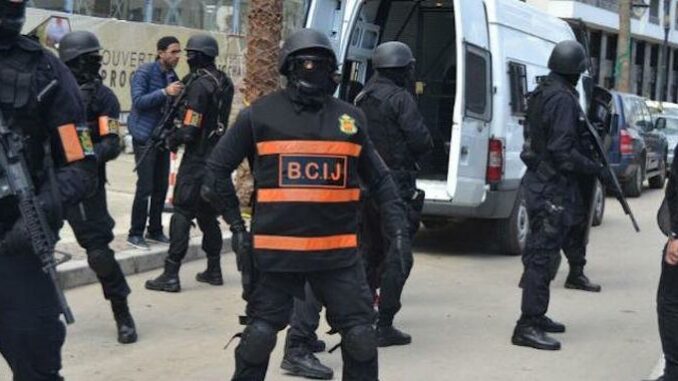 Morocco's Central Bureau of Judicial Investigations (BCIJ) arrested, Thursday, an extremist supporter of ISIS for his alleged involvement in the preparation of a terrorist project aimed at undermining public order.
A statement from the BCIJ said that the arrest followed information from the General Directorate of Territorial Surveillance (DGST) on the suspect and comes as part of the US-Morocco security cooperation. According to BCIJ, cooperation between DGST and US Intelligence services resulted in the identification of the suspect and uncovering of his terrorist project.
Searches conducted following the arrest of the suspect, aged 29, led to the seizure of computer and information equipment (digital media, cell phones, SIM cards, CPU and two laptops). All of the seized material are being analyzed by experts, BCIJ said.
According to results of preliminary investigation, the suspect was looking for safe routes to join terrorist organizations, particularly in sub-Saharan Africa and the Syrian-Iraqi conflict zones. He also conducted reconnaissance visits to identify certain security checkpoints with a view to attacking them and using their service weapons in terrorist operations.
The suspect was placed in custody to complete investigations to uncover all the possible connections of this terrorist project and to determine its ramifications both inside Morocco and abroad.
This security operation shows, once again, the importance and efficiency of preventive operations to neutralize terrorist threats, while highlighting the effectiveness of close cooperation between the services of the DGST and U.S. security and intelligence services in the fight against terrorism and extremism at the international level, the BCIJ statement said.
Morocco and the US put security cooperation as a priority in their partnership. Last week, Director of U.S. National Intelligence Ms. Avril Haines visited Morocco and met Mr. Abdellatif Hammouchi, Head of national police & domestic intelligence agency.
The two countries frequently expressed determination to boost cooperation in the field of security amid security threats in the region, including the Sahel.