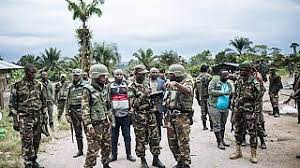 A renewed battle between M23 rebels and security forces in the eastern Democratic Republic of Congo (DRC) has reportedly begun after a few days of calm, as a leaked report from UN experts accuses Rwanda's army of running military operations against the DRC.
The renewed clashes between M23 fighters and members of a community self-defense militia has been reported in the troubled Rutshuru region. "We are in the middle of fighting," a commander of the armed group APCLS (Alliance of Patriots for a Free and Sovereign Congo) said. Similar clashes took place last week between the M23 and the pro-Hutu Nyatura militia and APCLS, which claims to defend the interests of the Hunde community. The M23, a mostly Tutsi armed group defeated in 2013, took up arms again in November 2021 after several years of dormancy. Since then, it has seized large portions of Rutshuru territory. The latest clashes come despite a ceasefire that was agreed at a summit in Luanda on 25 November that was followed by a withdrawal of the M23 from the conquered areas.
Kinshasa has long accused Kigali of actively supporting the M23 and fighting alongside it, but Rwandan government has repeatedly denied these accusations. But now a report by a group of independent United Nations experts has accused Rwanda's army of being "engaged in military operations" against the Congolese military in the country's troubled east. The experts said there was "substantial evidence" that the Rwandan army directly intervened in DRC's fight against M23 rebels, and that it had supported the group with weapons, ammunition and uniforms. Kigali has repeatedly denied it supports the rebels, but the United States and France, among other Western countries, have agreed with this assessment. According to the UN experts' report, Rwanda provided troop reinforcements to the M23 "for specific operations, in particular when these were aimed at seizing strategic towns and areas," the report added. Rwandan troops also led joint attacks with M23 fighters against Congolese positions in May, according to the report.