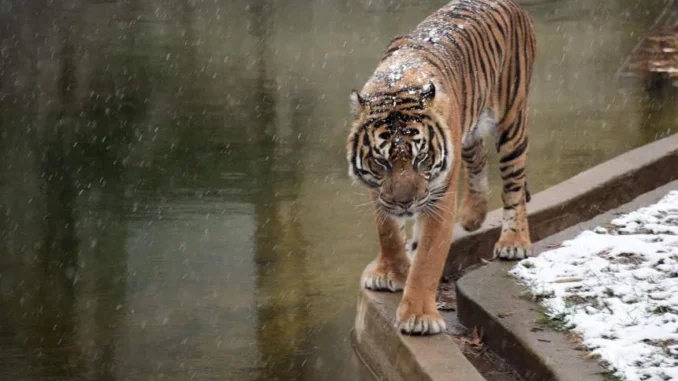 A tiger that escaped from a private property near Johannesburg caused panic for a few hours on Monday, less than two weeks after a Bengal tigress attacked a man and killed several animals on its way out.
This time the animal was captured before any incident was reported: "The tiger was sedated and taken to an animal sanctuary," Gary Wilson of private security firm S.W.A.T, which was involved in the hunt for the beast, told the media.
Security camera footage shared on social media showed the feline, spotted in Edenvale about 15 Kilometres east of Johannesburg, wandering around a parked car in the early hours. No details were given of the animal's owner or the property from which it escaped.
The endangered tiger is not endemic to South Africa, but the controversial breeding of the big cat in the country, particularly for sale to zoos, has become widespread in recent years, much to the dismay of animal rights organizations.
In mid-January, Sheba, an eight-year-old tigress kept as a pet, escaped from her owner. After roaming for four days near Johannesburg, she was shot by the search team. She had injured a 39-year-old man and killed several dogs.
In South Africa, it is illegal to own a lion as a pet, but tigers are allowed. Legislation prohibits the keeping of indigenous species, but the tiger is considered an exotic animal.