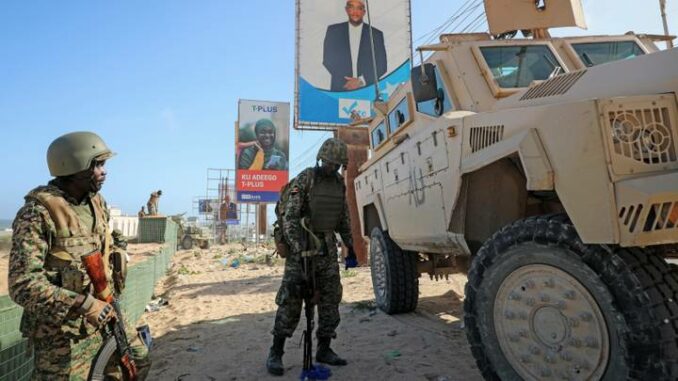 Radical Islamist al-Shebab attacked a military base 450 kilometers west of the Somali capital Mogadishu on Wednesday, police and witnesses said, as the African Union force in Somalia (Atmis) began withdrawing from the country.
Al-Shebab, who claimed responsibility for the assault in a statement, launched several suicide attacks against the Bardhere base where Ethiopian and Somali soldiers are stationed. "There are several casualties, but we don't have the details so far," said Abdi Bare, a policeman from Bardhere, adding that the situation had "returned to normal". Bardhere resident Bare Hassan confirmed the attack, referring to "heavy gunfire".
Somalia, one of the world's poorest countries, has been facing an insurgency for over 15 years by radical Islamists affiliated to al-Qaeda, the Shebab, who wish to establish Islamic law. To counter this insurgency, in 2007 the African Union deployed a force of 20,000 military, police and civilian personnel from Uganda, Burundi, Djibouti, Ethiopia and Kenya, known as Amisom.
Atmis took over from Amisom in April 2022, with the aim of handing over full responsibility for the country's security to Somali forces by the end of 2024.
This latest attack, claimed by al-Shebab, comes as Atmis "began to withdraw" from Somalia, in line with a UN resolution endorsing the withdrawal of "2,000 soldiers by the end of June 2023", according to a statement issued Wednesday by the African Union force.
Somali soldiers have taken over from Atmis forces at a base in Hirshabelle state, in the center of the country, the statement continued. Somalia's President Hassan Cheikh Mohamoud has declared "total war" on al-Shebab, and in September launched a military offensive, supported in particular by US airstrikes. But the al-Shebab continue to carry out bloody attacks in retaliation, underlining their ability to strike at the heart of Somali towns and military installations.