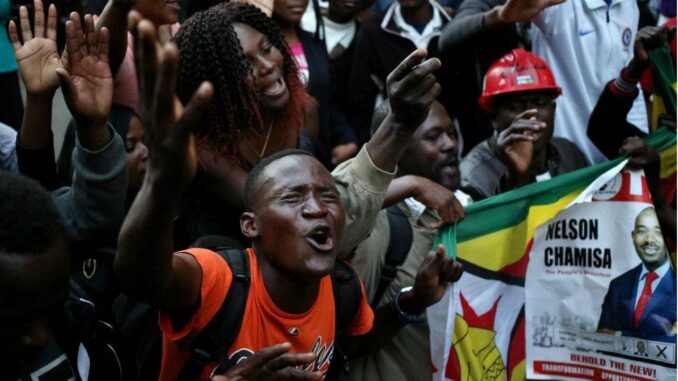 Zimbabwe's opposition still denounces police arrests and whimsically motivated prosecutions by the authorities to quell all forms of protest since August 2023.
According to the main opposition party, the Citizens' Coalition for Change (CCC), a dozen of its members, including MPs and local councillors, have been arrested since the elections. The pre-election period had also seen its share of arrests and intimidation. These prosecutions "are fabricated, politically motivated and unfounded", asserts CCC spokesperson Promise Mkwananzi.
In the photo that led to his arrest, opposition MP Gift Ostallos Siziba is wearing large sunglasses and the jersey of his favorite soccer team, the Zimbabwe Highlanders, with the caption: "We fear no one". In the aftermath of the match with the Harare Dynamos, interrupted by fans invading the pitch and police intervention, the Zimbabwean MP was arrested for inciting violence.
According to the opposition, this is yet another illustration of a series of whimsically-motivated prosecutions aimed at silencing the opposition, following the controversial victory at the end of August of outgoing President Emmerson Mnangagwa and Zanu-PF, the party in power since independence in 1980.
International observers judged the poll to be "non-compliant", pointing to "serious problems" affecting the "transparency" of the election, which saw Emmerson Mnangagwa win with 52.6% of the vote, against 44% for CCC candidate Nelson Chamisa. The CCC described the whole process as "chaotic and null", and called for a new ballot. Since then, several of its members have experienced serious problems.
In early September, Womberaishe Nhende, just elected CCC councilor in a Harare district, and one of his relatives were abducted, tortured and left naked near a river 70 km away. Their lawyers were subsequently arrested for obstruction of justice. As for the CCC spokesman, he fled the country after police unearthed a 2020 arrest warrant for him, in a case of incitement to violence which he insists was closed. "I was forced to flee, I had no other option", he says.