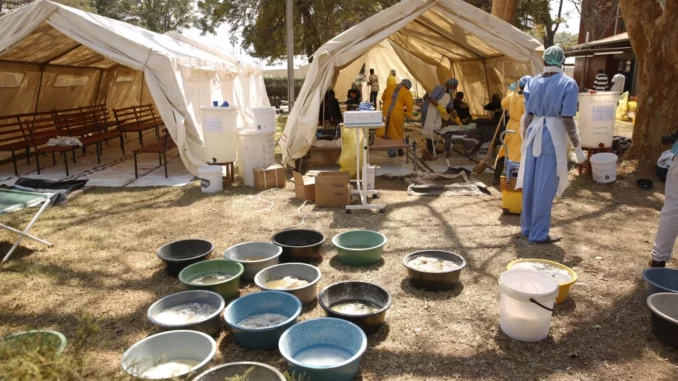 No shaking hands or sharing food: Zimbabwe has imposed sanitary measures on public gatherings, to combat a resurgence of cholera. The restrictions had been imposed from Saturday October 7 last week. In the last 24 hours, 36 new suspected cases have been recorded by the Ministry of Health.
All regions of the country have been affected since the disease reappeared in the southern African country earlier this year. An acute diarrhoeal infection caused by eating food or drinking water contaminated with bacteria, cholera is on the rise again on the continent, according to the World Health Organization.
In Zimbabwe, the Ministry of Health has officially recorded 30 deaths since February and over 900 cases. However, around a hundred people are suspected of having succumbed to the disease and almost 4,650 of having been infected.
The country's urban areas, which have been in the throes of a deep economic crisis for the past twenty years, and where health infrastructures and drinking water supply systems are often in a state of disrepair, are regularly hit by cholera.
In a notice widely shared on social networks, the Harare municipality advised against shaking hands, eating at public gatherings and buying food from informal vendors. Nearly 340 kilometers from the capital, in the Zaka district, local authorities have banned public gatherings, which are now subject to authorization by the Ministry of Health.
In 2008, cholera claimed at least 4,000 lives in Zimbabwe and infected 100,000 people. With the economy in its death throes, most public hospitals were plagued by drug shortages.