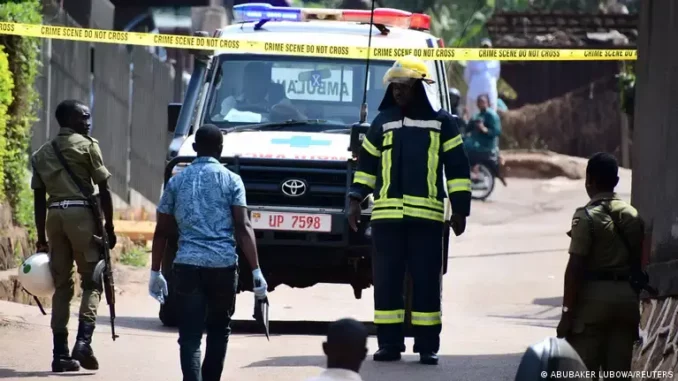 Bomb attacks on churches by Allied Democratic Forces (ADF) jihadists were foiled on Sunday October 15 in Uganda, some 50 km west of the capital Kampala, President Yoweri Museveni announced.
Two explosive devices that the ADF, rebels who have pledged allegiance to the Islamic State group, "were planning to plant in the churches of Kibibi (…) were reported to the police and defused", wrote the Ugandan Head of state on X (formerly Twitter) this October 16.
Earlier on Sunday, 79-year-old Yoweri Museveni, who has ruled the country with an iron fist since 1986, said that Ugandan forces had carried out air strikes against ADF positions in the neighboring Democratic Republic of Congo the previous day. "It seems that many terrorists have been killed", he wrote on X, without giving further details.
The President warned that the ADF could "attempt to commit random acts of terrorism" in Uganda following these air strikes.
In September 2023, Ugandan police claimed to have foiled a bomb attack on a cathedral in Kampala and arrested the man suspected of trying to activate the explosive device among worshippers.
In June, members of the ADF killed 42 people, including 37 pupils, at a secondary school in western Uganda close to the border with the Democratic Republic of Congo.
It was the deadliest attack in Uganda since the double bombing in Kampala in 2010, which killed 76 people in a raid claimed by the Somali-based Islamist group Shebab.
In its latest report published in June, the UN Group of Experts on the DRC stated that the EI had "provided financial support to the ADF since at least 2019, through a complex financial system involving individuals in several countries on the continent, emanating from Somalia and passing through South Africa, Kenya and Uganda".
Originally Ugandan rebels with a majority of Muslims, established in the DRC since the 1990s, the ADF pledged allegiance in 2019 to the EI, which claims responsibility for some of their actions and presents them as its "central African province" (Iscap in English).