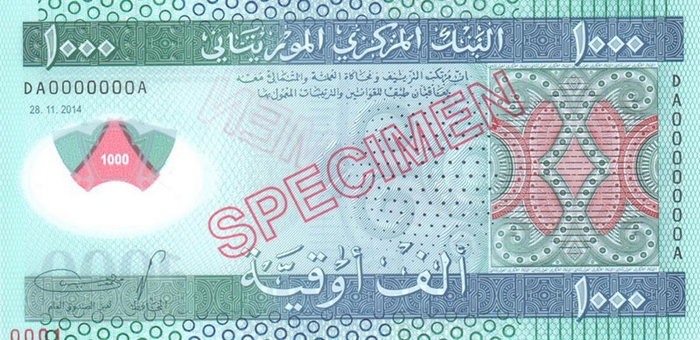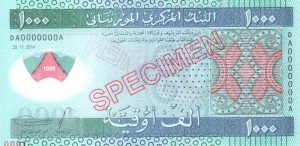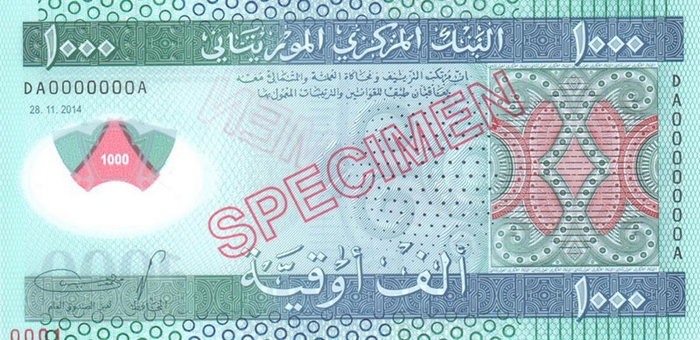 After it's launching of two new banknotes, UM 200 and UM 100 in November 2014, the Central Bank of Mauritania (BCM) has released on Saturday, according to the decree establishing banknotes, the issue of its new 1000 Ouguiya banknote printed on Guardian® polymer substrate. Guardian® is currently used by 24 countries with 78 denominations worldwide.
The Central Bank of Mauritania has also ensured that the new polymer of 1000 Ouguiya is smaller than the preceding paper note, making it easier to handle. Similar to other banknotes in the current series, the new 1000 Ouguiya is 142mm by 70mm.
The new 1000 Ouguiya banknotes and the old, have similar cultural graphics. These include intricate patterns and text elements, with Arabic on the front side and French on the back side. The new note also retains the familiar blue-green colour of the previous series of 1000 Ouguiya banknote.
US dollar is equal to 306.12 UM on the 27th November 2014.