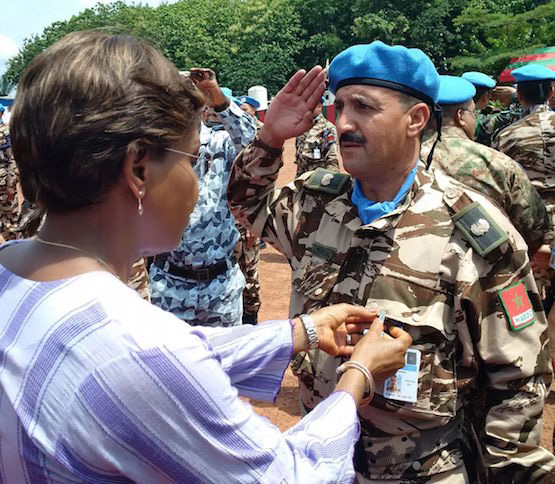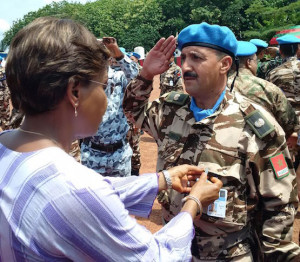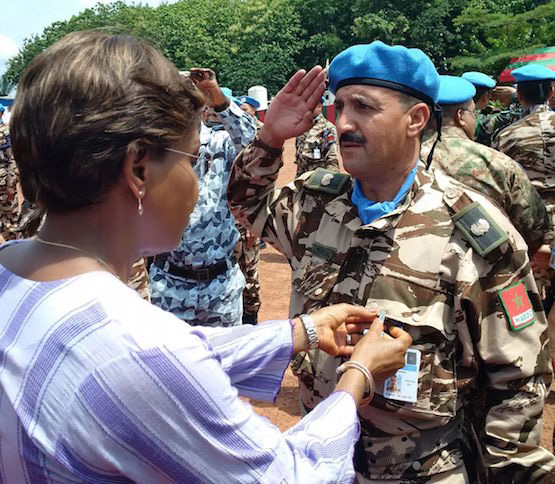 Over 700 Blue Helmets of the 21st Contingent of the Moroccan Royal Armed Forces (MORBATT) stationed in Duékoué in western Côte d'Ivoire, about 484 km from Abidjan, have been decorated with a UN medal. An official ceremony was held in Ivory Coast on Thursday in honor of the 705 recipients of the medal, including officers, NCOs and enlisted men.
The UN medal for UN peacekeeping missions was handed over to the recipien ts by Aïchatou Mindaoudou, Special Representative of the UN Secretary-General for Côte d'Ivoire and Head of the United Nations Operation in Côte d'Ivoire (UNOCI). According to the Ivorian news agency AIP, Aïchatou Mindaoudou said at the ceremony, which was attended by senior officers of the Moroccan Royal Armed Forces (FAR,) that the UN distinction was bestowed on the 705 Moroccan soldiers in recognition for their "remarkable contribution" to the peace process in Côte d'Ivoire.
The UN decorations awarding ceremony coincided with the celebration in Morocco of the 59th anniversary of the establishment of the FAR. Commander of the 21st MORBATT contingent, Colonel Major Hassan Nouh, surveyed on the occasion the Moroccan contingent's action in Ivory Coast since it was first deployed in the country in 2004, highlighting the valuable contribution of Moroccan peacekeepers in maintaining peace and security in Côte Ivory. He recalled that the FAR contingent in Côte d'Ivoire conducted hundreds of operations including 1,300 patrols, 600 escort missions, 270 security missions, 90 operational exercises and reconnaissance missions with the Republican Forces of Côte d'Ivoire (FRCI).
The contingent also carried out policing operations, supported the disarmament, demobilization and reintegration of former combatants and participated in monitoring operations of the embargo on arms. The Moroccan peacekeepers participated in other civil-military actions, including the distribution of 1,000 tons of drinking water to the population, school kits, as well as trophies and sports equipment to neighborhoods teams and sports associations.