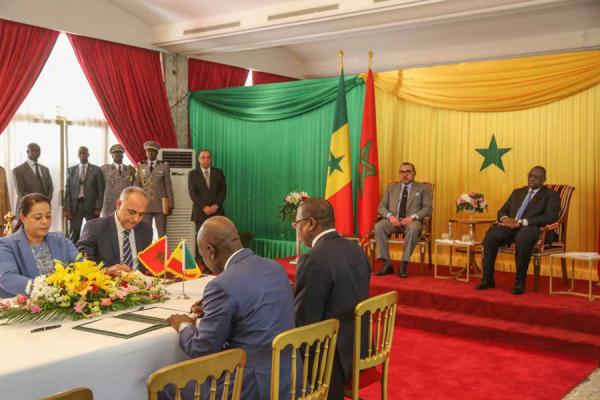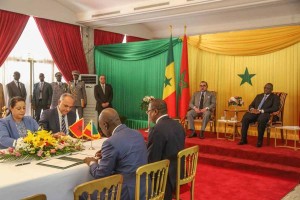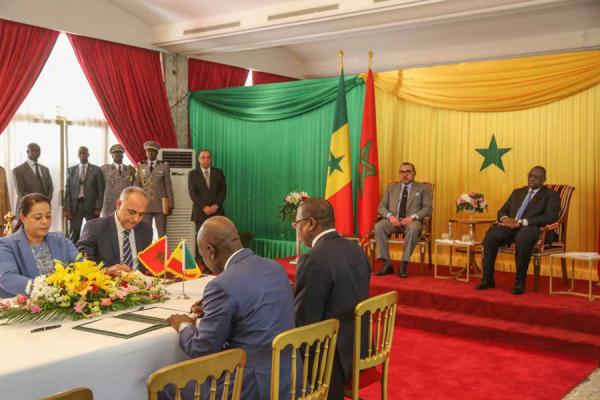 The first day of the working and friendship visit King Mohammed VI is paying to Senegal was marked by the signing of thirteen cooperation and partnership agreements, covering several areas including customs, industry, animal health, tourism and environment protection.
The signing ceremony was chaired by King Mohammed VI and President Macky Sall, who have thus showed their shared determination to boost their countries' economic cooperation.
The two leaders have also held tête-à-tête talks whose contents were not disclosed.
The agreements, signed by the two countries' ministers of the concerned departments, are related to the fields of industry, economy and finance, agriculture (livestock, dairy and equine industries and animal health), sea fisheries, territorial administration, logistics, tourism, customs, sustainable development, vocational training, sanitation and drinking water.
One of the thirteen agreements is related to the construction of a fishing harbour, while another provides for the opening of an office of the Mohammed VI Foundation for sustainable development. Through the opening of this office, its first branch abroad, the Foundation engages in a strategic cooperation which places the social dimension at the centre of its interests and commits to contribute to human development efforts in Senegal.
During the royal visit, a newly set up group destined to give an additional impulse to Moroccan-Senegalese economic partnership and to promote the emergence of regional economic stakeholders will hold its first meeting.
The royal visit to continue till May 27 provides thus an opportunity for both countries to strengthen their ties, not only at the economic level but also in the political and diplomatic realms.
King Mohammed VI arrived in Senegal on Wednesday, first leg of an African tour that will also take him to Côte d'Ivoire, Gabon and Guinea Bissau.