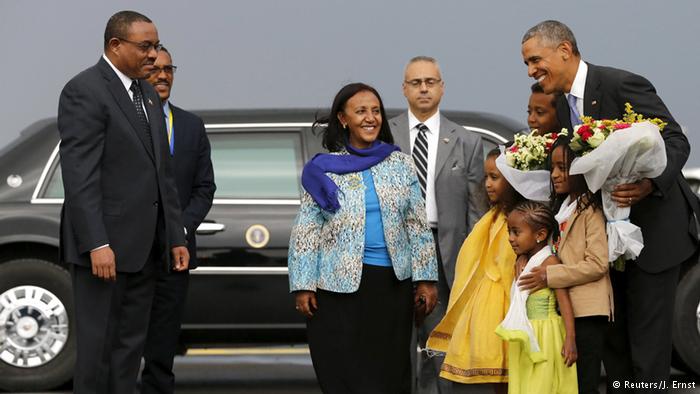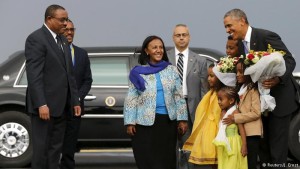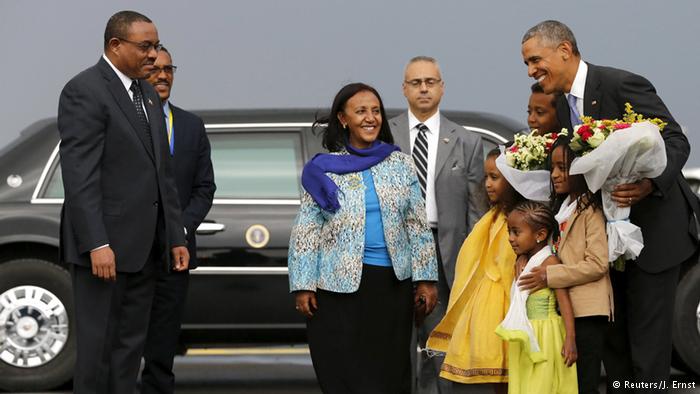 After a landmark trip to Kenya, his father's birthplace, the US President Barack Obama flew to Addis Ababa late on Sunday on the first visit by a serving U.S. president to the African country.
On Monday, Obama held talks with the Ethiopian Prime Minister Hailemariam Desalegn on a range of issues related to cooperation on security and peace-building in the region.
The two sides have agreed to work closely on South Sudan to bring lasting peace to the conflict-ridden country, to work together in building peace in Somalia by helping create stable institutions and by strengthening the Somali security forces in their quest to be in charge of the peace of their own country, and to intensify the campaign against terrorism in the region.
"We both noted with satisfaction the progress AMISOM forces and Somali National Army are making, with the support of the U.S. and other partners, in their fight against al-Shabaab," said the Ethiopian Premier at a joint Press Conference with President Obama at the end of their talks.
"We are strongly committed to partnering with African countries to increase their capacity to address the immediate threats posed by terrorist organizations," the White House said in a statement on Monday.
Echoing him, President Obama voiced commitment to partner with African countries to increase their capacity to address the immediate threats posed by terrorist organizations. He recalled that the US has been partnering with Ethiopia and Kenya and Uganda and the African Union and AMISOM in the fight against al-Shabaab.  
"Part of the reason that we've seen the shrinkage of al-Shabaab's activities in East Africa is because we have our military teams in consultation with regional forces and local forces, and there are certain capacities that we have that some of these militaries may not, and I think there's been complementarity in the work that we've done together."
The Ethiopian Prime Minister said they have agreed to deepen their intelligence cooperation both bilaterally as well as regionally, deeming this cooperation is essential to curb the menace posed by terrorism.  
"The terrorist attack that was launched in Mogadishu yesterday is a stark reminder that we need to work even more in this respect,' Prime Minister Desalegn said.
President Obama confirmed that he shared with the Prime Minister Washington's interest in deepening intelligence cooperation and that they have had "some fruitful discussions" about ending the flow of foreign financing for terrorism.  "Our cooperation regionally is excellent," Obama said, adding that talks also covered good governance and human rights issues.
Obama will also hold talks with regional leaders on the civil war in South Sudan in an attempt to build African support for decisive action against the war-torn country's leaders if they reject an ultimatum to end the carnage by mid-August.
Obama said on South Sudan at the press conference that the goal here is to make sure that the United States and IGAD are aligned on a strategy going into this endgame on peace talks.
"So my hope is that, as a result of these consultations that we agree on how urgent it is and what each of us have to do to actually bring a deal about," Obama said making it clear that "if we don't see a breakthrough by August 17th, then we're going to have to consider what other tools we have to apply greater pressure on the parties."  
Human Rights activists and press freedom advocates had called President Obama, on the eve of his trip to Addis Abeba, to raise concerns over political space, press freedom and human rights in Ethiopia.
Ethiopia is the second-worst jailer of journalists in Africa, after Eritrea, according to the Committee to Protect Journalists. In its 2015 report, press freedom group Freedom House ranked Ethiopia's press status as "not free", giving it 83 out of 100, with 100 representing the worst.
President Obama said he discussed with his interlocutor steps that Ethiopia can take to show progress on promoting good governance, protecting human rights, fundamental freedoms, and strengthening democracy. He added that he urged the governing party to open additional space for journalists, for media, for opposition voices. 
Tuesday, Obama is slated to address the African Union at its headquarters in Addis Ababa about the fight against terrorism and the importance of creating greater economic opportunities for people, so they won't be lured by terror groups.