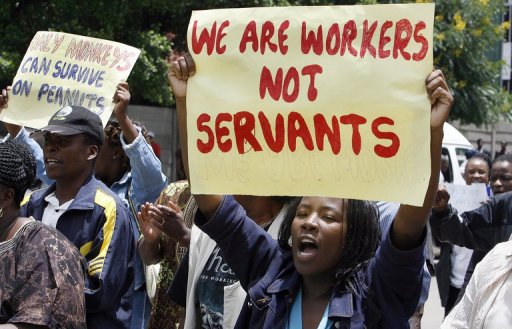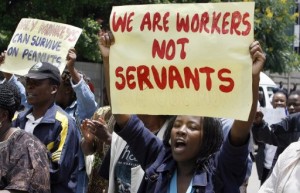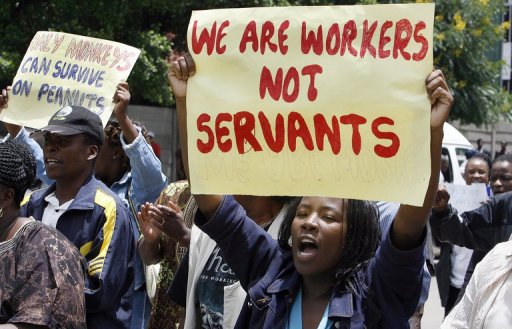 Civil servants in Zimbabwe who were supposed to be paid on the 28th of December will now get their salaries next year, the government announced on Monday.
The country has delayed paying of December salaries for most of its public sector workers to early next month and has not paid annual bonuses in a sign of a cash crunch that brought threats of strikes from doctors and teachers.
In a brief statement, the government, through the Ministry of Finance, said the civil service pay dates had been moved forward but December wages for teachers and other education sector workers would be paid on Tuesday.
"Treasury advises that the December 2015 salary payment date for the rest of the public service is also being moved from 29 December 2015 to 5 January 2016," it stated.
The statement didn't mention if the bonuses, equivalent to one month's salary and traditionally paid in November, would be paid.
Most civil servants were furious with the government as they failed to travel during this festive season.
"Our December salary and 2015 bonus must be disbursed on or before Dec. 31. Our members countrywide will not be able to attend to their duties from Jan. 1, 2016 should this be violated," read a statement from the Zimbabwe Hospital Doctors Association.
Civil servants in Zimbabwe normally get paid before Christmas and New Year holidays.
Early this year, the Finance Minister, Chinamasa announced that the government had suspended the traditional 13th cheque paid to government workers every December until 2017.
President Robert Mugabe, however, made it clear that government workers would receive their bonuses.