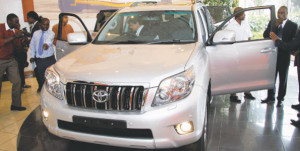 Kenya's new car sales increased by 12.86 percent last year to 19,524 units, the Kenya Motor Industry Association (KMI) said on Monday.
According to Rita Kavashe, the managing director of General Motors East Africa and chairperson of the KMI, "the distribution and construction side of the economy is booming, driving demand of the medium, light duty trucks."
Sales of light commercial trucks helped push new vehicle sales in Kenya to 16,711 units in the first 10 months of 2015, 15 percent higher than in the same period last year, the head of the industry's association said.
"Heavy duty trucks, used for long distance haulage of goods, including into neighbouring countries from the port of Mombasa also recorded double digits growth," Kavashe said.
The luxury car segment, which is dominated by second-hand imports, grew at a more sluggish pace, attaining a growth rate of 1.5 percent and accounting for 2,000 of the units sold during the period.
The loosening of import restrictions in the 1990s has seen sales of used motor vehicles surge to account for about 80 per cent of all unit sales, riding on their relatively low prices to attract bargain hunters.
Sales of the high-end cars had slumped from their peak in 2009 when the government — previously accounting for more than a quarter of orders — introduced a policy in favour of lower-maintenance makes.