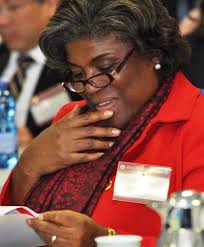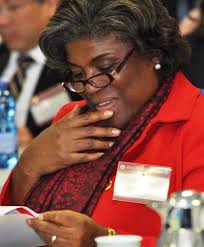 US Under-Secretary of State for Africa Linda Thomas-Greenfield Wednesday claimed that Rwanda is seeking to destabilize its political tormented neighbor Burundi by enrolling Burundian refugees into a rebellion to topple President Nkurunziza's regime.
"We received a number of reports from colleagues on the ground alleging that Rwandan government is involved in destabilizing actions in Burundi," Thomas-Greenfield told the US Senate Foreign Affairs Committee.
Her comments come after a recent UN report published in January finger-pointed the Rwandan regime which it said was training Burundian refugees to conquer power.
The report indicated that some Burundian refugees received two-month training from instructors among whom some Rwandan soldiers.
The training, according to 18 refugees among whom 10 minors interviewed by UN experts, featured military tactics, use and maintenance of rifles and machine-guns as well as ideological brain-washing.
"They admitted their ultimate goal was to topple Burundian President Nkurunziza," the UN report said.
Burundi descended in political turmoil after President Pierre Nkurunziza announced in 2015 he would run for a third presidential term. Opposition and civil society organizations stood against his plan. Protests flared up in capital Bujumbura. Every day protests which started on April 25 left dozens of people killed by the army.
A failed military push led by ringleader Gen. Godefroid Niyombare occurred on May 13 while President Nkrunziza was attending a meeting on the situation in Tanzania.
President Nkrunziza forged ahead with his plan and won 2015 Presidential and general elections while major opposition leaders fled the country. Hundreds of thousands of Burundians have also fled the country fearing reprisals.
In a move to protect civilians, the African Union announced it would send peace keeping forces but President Nkrunziza turned down the decision. Furthermore, mediation efforts led by Ugandan President Yoweri Museveni collapsed early this year.