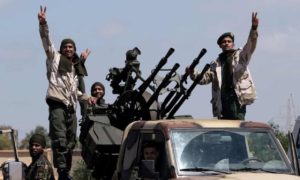 The European Union on Monday called on all warring groups in Libya to commit to a ceasefire and return to UN-led mediation.
EU foreign ministers in a statement urged all parties to immediately implement a ceasefire and to engage with the United Nations to ensure a full and comprehensive cessation of hostilities.
The council of ministers made the announcement after meeting with UN-backed Libyan Prime Minister Fayez al-Serraj in Brussels.
According to the EU, the factions must dissociate themselves both publicly and on the ground from terrorist and criminal elements involved in the fighting, and from those suspected of war crimes, including individuals listed by the UN Security Council.
Since the outbreak of conflict in 2014, Libya has had first three, then two, rival governments claiming legitimacy – the GNA in Tripoli, and the "Interim Government" based in the eastern cities of al-Bayda and Tobruk that is allied with Khalifa Haftar, a former senior officer in the army of Muammar Gaddafi.
The power struggle between Haftar and the GNA has left Libya's vast desert regions without effective government.
Many independent Libyan experts claim Haftar has no commitment to democracy, and himself deploys Salafist militia in his self-styled Libyan National Army.
The GNA said that Haftar was directly responsible for a resurgence in Islamic extremist activities in Libya.