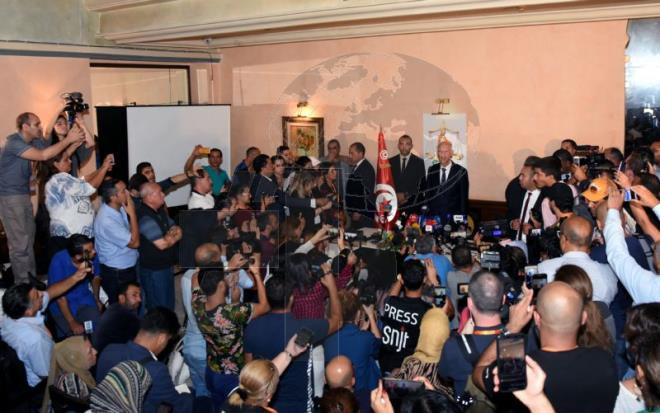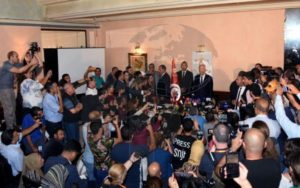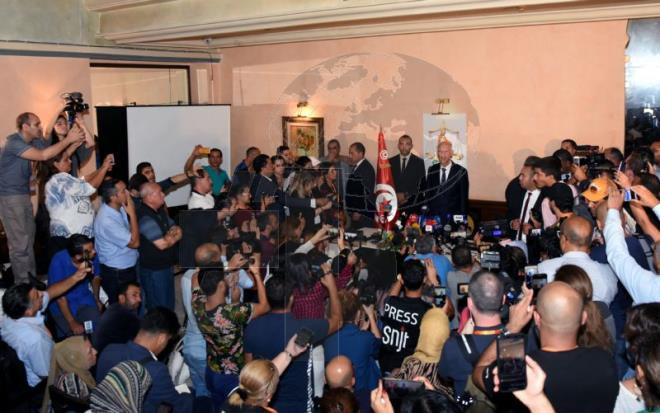 In Tunisia, supporters of presidential candidate Kaïs Saïed have stormed the grand boulevards of central Tunis in celebration late on Sunday after exit polls showed the conservative candidate  was elected by a landslide majority.
Kaïs Saïed contested Tunisia's runoff presidential election against media magnate Nabil Karoui.
After the exit polls were released, Kaïs Saïed appeared in front of jubilant supporters in Tunis and thanked "young people for turning a new page" in Tunisia's history.
"We will try to build a new Tunisia. Young people led this campaign, and I am responsible for them," he said, flanked by his family.
The winner of the presidential runoff election pledged to uphold the rule of law and its application to all, at a press briefing in Tunis, reported the official news agency TAP.
"The law applies to everyone, my role is to enforce it," he said, stressing that he will be the president of all Tunisians.
Tunisia has reached a new stage in its history on the path of democracy, requiring to meet many social and economic challenges, he pointed out.
"The will of the people equals the level of decision," he said.
"The State remains standing with its legislation and its international commitments. Our relations at home will be based on trust and responsibility … We will work to restore trust between leaders and people under the Constitution," he was quoted by TAP as saying.
Abroad we will stand alongside just causes, first and foremost the Palestinian cause and we will work to build new relations with nations, he said.
According to initial results, the 61-year-old independent candidate won the second round of the presidential election by 76.90% of the vote, while his contender media mogul and businessman Nabil Karoui garnered only 23.1% of votes.
Kaïss Saïd benefited from the "crucial" support of the Islamist "Ennahda" party to win this election. Former Tunisian President Moncef Marzouki had also thrown his support behind Kaïss Saïd.
Kaïss Saïd, a neophyte in politics and an academic perceived as very conservative on societal issues, had created surprise by winning the first round of the presidential election held on September 15 with 18.4% of the vote.
Nabil Karoui has reportedly admitted his defeat. However, he deplored the fact that he did not have the same chances as his challenger to stage his campaign.
Nabil Karoui, who had been incarcerated since mid-August for tax fraud, was released only four days before the second round. His request to postpone the second round was not met.
The second round scored a high turnout of more than 60% compared to only 42 % during the first round.