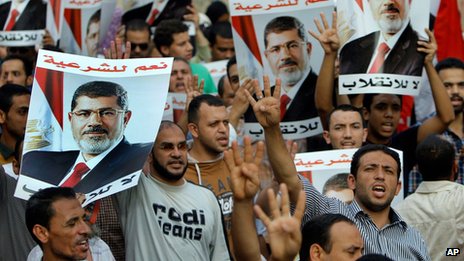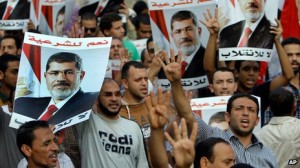 Supporters of the Muslim Brotherhood are hoping that Friday's demonstration will be much more successful than the last one they organized, as they continue to aspire for their call to "regain the revolution." Despite the arrest of most of its leaders, there are expectations that the demonstration will be a massive test for the Brotherhood and the government. Reports are also emerging that the Brotherhood and interim government will meet for talks by next week.
The Brotherhood's National Alliance to Support Legitimacy released a statement Wednesday stating that 30 August will be "the beginning of a civil disobedience plan to pressure the putschists to end the coup."
A high turnout will be seen as a revival of the Brotherhood while the opposite will boost the interim government's morale that its tactics are yielding results. Preparations of today's demonstration have been started since in the beginning of the month when it was announced.
The government has taken precautionary measures. It has increased the presence of security personnel in the streets and at government buildings. The government has reduced curfew hours but days known to be traditional protest days remain unconcerned and begin at 7pm.
In the buildup to Friday's demonstration, emotions have been running high throughout the week.  Many believe that its success won't have any major impact. A former Brotherhood member, Mohamed El-Kassas, wants the security personnel to remain peaceful because "State oppression generates an opposite reaction to what it intends." He expects that informal negotiations between the government and the brotherhood are ongoing with the help of the European mediators.
Mohamed Osman, another former member, said the demonstrators should prioritize the reinstatement of Morsi rather than advocating his legitimacy if they want a massive turnout.