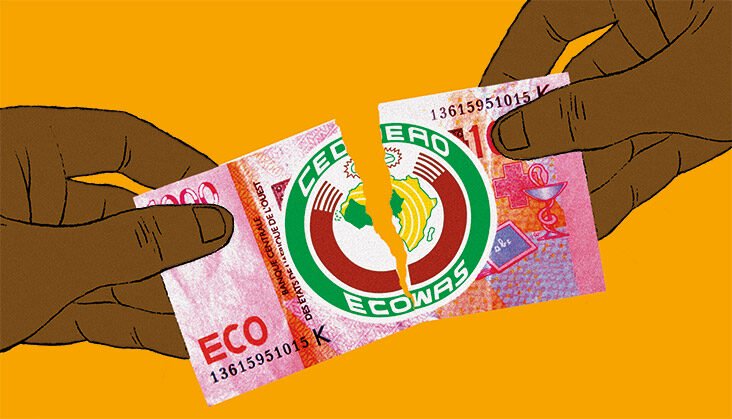 The President of Nigeria, Muhammadu Buhari, spoke for the first time on Wednesday 24 June of a risk of dislocation of ECOWAS, in case of the arrival of the eco currency to replace the CFA franc by the WAEMU zone. Even if it is not a threat, Muhammadu Buhari's statements show that the positions remain clear-cut.
The adoption of a single currency in West Africa is still a matter of debate. More than six months after the Abidjan announcement, the draft law amending the WAEMU treaty is still on the tables of the national parliaments of member countries, as well as the French parliament.
In this document, the eco currency has a fixed exchange rate with the euro. And despite the departure of the Paris representatives from the monetary policy bodies of the new currency, the constitution of financial guarantor gives France the right to appoint representatives to the Monetary Policy Council of the Central Bank of West African States in the event of a crisis.
Already on 10 February, in a tweet, the Nigerian presidency announced that "Nigeria's position on the eco is that the convergence criteria (between states) have not been met by the majority of the countries" that have to adopt this common currency, there must therefore be a postponement of the launch of the single currency".
But long before that, it was the Ivorian President, Alassane Ouattara, during a visit by his French counterpart, Emmanuel Macron, the day after an ECOWAS summit that had encouraged efforts to establish a single West African currency by July, who made the surprise announcement. Nigeria and several West African countries, particularly English-speaking countries, had in fact denounced the decision weeks later, claiming that it was "not in line" with the programme recently adopted by the whole region to introduce a single currency. For these non-CFA countries, it is not conceivable that the name "eco" could be associated with a currency that does not meet the criteria agreed by all in Abuja in June 2019. This is pointed out again in the tweet of 10 February.
Months later, the position of Nigeria has not change with regard to the new currency.