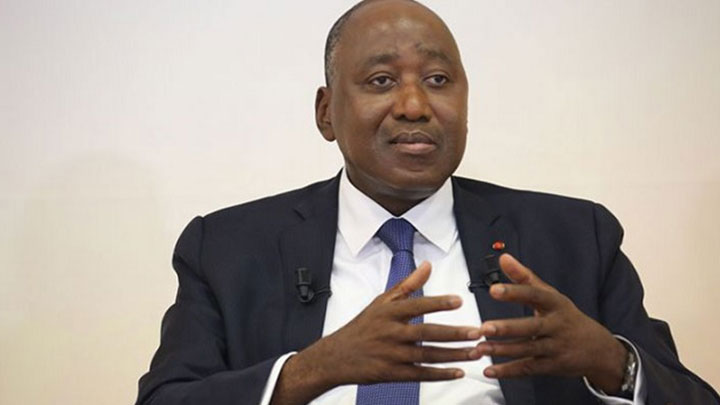 Côte d'Ivoire on Tuesday paid national tribute to Prime Minister and presidential candidate Amadou Gon Coulibaly, who died on 8 July of a heart attack at the age of 61, during a ceremony at the presidential palace in Abidjan.
Côte d'Ivoire paid tribute to its Prime Minister. The national funeral of Amadou Gon Coulibaly took place on Tuesday. The head of government, very close to Alassane Ouattara, was to be his runner-up in the next presidential election. He died last week.
A restricted ceremony in which all guests wear masks because of the Covid-19 pandemic. But the ceremony was worthy of the former Prime Minister, in the presence of Senegalese President Macky Sall and French Foreign Minister Jean-Yves Le Drian, representing Emmanuel Macron.
The President of the Republic and First Lady Alassane and Dominique Ouattara arrived at about 11:30 a.m. They gathered in front of the remains of the missing minister. The Head of State did not speak. Despite everything, emotion was strong for this national homage, especially during the speech of the Minister of Education, Kandia Camara, who could not hold back her tears.
The Secretary General of the Presidency, Patrick Achi, also paid a heartfelt tribute to his collaborator and friend. Amadou was a man of noble pride," he said. Proud for his country, embodying a high idea of politics, made of integrity, hard work, spirit of conquest and patriotic passion».
Prime Minister Amadou Gon Coulibaly will be buried on 17 July in Korhogo, his hometown.