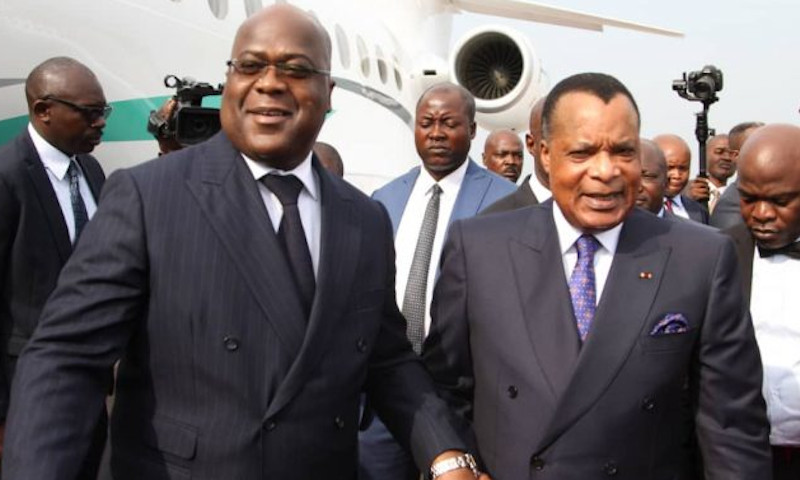 Upon his arrival on July 15, Felix Tshisekedi had a series of talks with his Congolese counterpart Denis Sassou-Nguesso. These talks will continue today before the return to Kinshasa of the president of the DRC.
Felix Tshisekedi travelled alone, without his Minister of Foreign Affairs or any other member of the government. And all Wednesday's talks were held exclusively face-to-face with his counterpart Denis Sassou-Nguesso.
According to diplomatic sources, the two heads of state spoke about the coronavirus pandemic, including the upcoming reopening of the borders between the two countries, which have been closed for about a quarter as part of the global health emergency. This closure affects not only trade between Kinshasa and Brazzaville, but also the families living on both sides of the Congo River, who have not seen each other for many months.
Another important topic was discussed on Wednesday: the border dispute between the DRC and Zambia. For months, Kinshasa has been denouncing the presence of the Zambian army on its territory. Brazzaville has already offered its mediation. In this regard, a mini-summit is being prepared and should be held in the Congolese capital. The two countries in conflict should take part, as well as Zimbabwe on behalf of SADC and Congo-Brazzaville, which chairs the International Conference on the Great Lakes Region (ICGLR). For the Brazzaville authorities, the stability of the DRC must be preserved in order to ensure the stability of the region.
This visit to Congo is Felix Tshisekedi's third of its kind since he came to power in 2019.