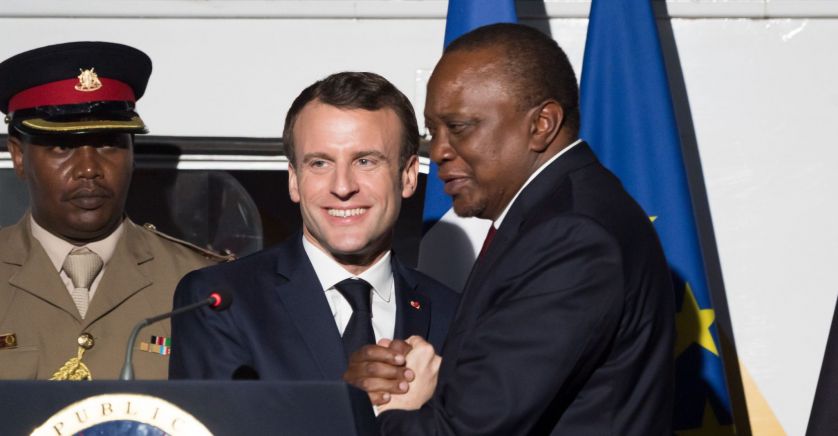 The Kenyan president arrives in Paris for a five-day visit to France, focused on business.
Uhuru Kenyatta is accompanied by a strong ministerial delegation and is expected to attend several economic events, including a conference at the headquarters of the Public Investment Bank of France, the institution in charge of promoting French companies abroad. He will also meet members of the Medef, the French employers' association.
This visit should lead to the signing of a few contracts, worth nearly two billion euros.
In March 2019, Emmanuel Macron visited Kenya, the first official trip of a French Head of State to Kenya since independence. The two presidents had committed themselves to several infrastructure projects. Despite China's very strong presence in the Kenyan economy, France is attracted by this strategic country whose growth has propelled it into the club of middle-income countries within a decade.
The time has now come to make these agreements a reality, it is said in diplomatic circles. Paris hopes to finalize the project for a motorway concession linking Nairobi to Nakuru and Mau Summit. A contract worth €1.6 billion for which Vinci is the main operator. This crucial road is used by trucks carrying goods imported from the coast. Rather arduous discussions because of a divergence on the terrorist risk, usually taken into account, in this kind of contract, by the sovereign country. However, Nairobi would not wish to assume this risk. It will therefore be the subject of other negotiations.
Another project is the rail link between the Kenyan capital and the airport. Paris has already drawn up the financing agreement for the rehabilitation of the existing old railway line, but has yet to sign it for a value of €130 million.
Finally, France is offering its expertise to connect the Menengaï geothermal power plant to the country's electricity grid. The French branch of General Electric will build 30 km of line. The project is expected to bring in €110 million.
Paris thus confirms its rapprochement with Nairobi. "The two presidents have a good contact. They call each other regularly and have converging interests, especially on issues of regional stability," says a connoisseur of the file. Paris thus voted in favor of Kenya to obtain its seat as a non-permanent member of the United Nations Security Council.
France is counting on the willingness of Kenyans to diversify their partners in the face of China's omnipresent economy. "The Kenyans want to diversify and they are unhappy with the way Beijing treats them," said an economist, adding that the Chinese have several times tried to thwart this Franco-Kenyan rapprochement.
As a token of goodwill, the French Development Agency will offer its services to develop the rural road network. Budgetary aid is also on the agenda