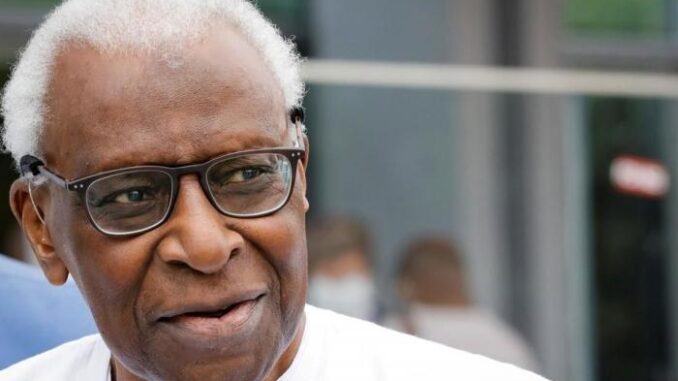 Convicted by the French justice last September in a vast case of corruption against the backdrop of doping of Russian athletes, he arrived yesterday evening in Dakar. He was held in France because of an indictment in a second case, on suspicion of buying votes in the awarding of the Olympic Games of Rio 2016 and Tokyo 2020.
A return without fanfare because he did not want a "popular welcome" at the airport. After more than five years of absence, the former president of the International Federation of Athletics Lamine Diack "first wants to find his family for the Korité holiday" – which marks the end of Ramadan – explain relatives. But he remains at the disposal of French justice. "When I accompanied him to collect his passport, he was both very happy and moved. Lamine Diack is still under judicial control, he is subject to prosecution and he will fight until the end to clear his honor, so it is not yet time to celebrate, even if today is a happy day of reunion, "explains his lawyer, Simon Ndiaye.
A return made possible thanks to the deposit paid by the Jaraaf soccer club, which Lamine Diack had chaired twice. "We are relieved that he can return to his country. We were only giving him back a small part of what he gave us. The Jaraaf has a property in Dakar and its region that can be valued at several billion. And if we have this, it is thanks to Lamine Diack, because for us Lamine Diack remains the eternal president. "
After the family reunion, the "Collectif de soutien à Lamine Diack" (Lamine Diack support group) indicates that a statement to the press is envisaged, "when the time comes".
The 87-year-old Senegalese was granted a waiver of the ban on leaving French territory, in exchange for the payment of a 500,000 euro (about 330 million CFA francs) deposit. Lamine Diack had appealed his sentence of four years in prison, including two years in prison, in the case of corruption related to doping cases in Russia. No date has yet been set for the appeal.