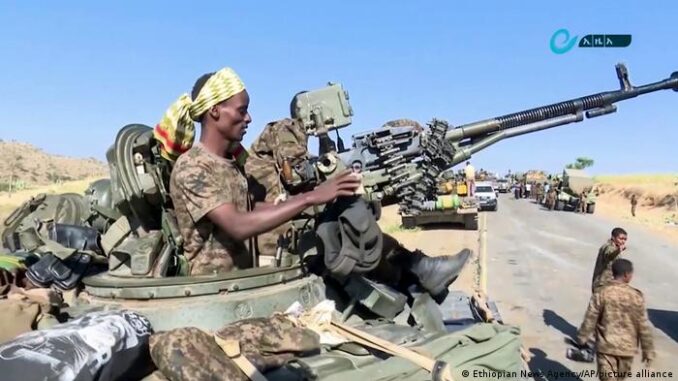 The United States will impose visa restrictions on Eritrean and Ethiopian officials accused of fueling the conflict in Tigray, lamenting their failure to "take meaningful steps to end hostilities.
"The people of Tigray continue to suffer human rights violations, abuses, atrocities, and urgent humanitarian needs that are being blocked by the Ethiopian and Eritrean militaries and other armed actors," said U.S. Secretary of State Antony Blinken in a statement Sunday, May 23.
"Despite significant diplomatic engagement, the warring parties in the Tigray conflict have not taken meaningful steps to end the hostilities or achieve a peaceful resolution to the political crisis," he said.
The visa restrictions are aimed at "current or former Ethiopian or Eritrean government officials, members of the security forces, and others to include regional and irregular Amhara forces and members of the Tigray People's Liberation Front (TPLF)," he said.
The U.S. also plans "large-scale" restrictions on economic and security assistance to Ethiopia, but plans to continue humanitarian assistance in areas such as health, food and education.
"The United States condemns in the strongest terms the killings, forced displacement, systemic sexual violence and other human rights violations and abuses," Blinken said. "We are also horrified by the destruction of public property such as water points, hospitals and medical facilities that are occurring in Tigray.
The current situation in Tigray is "horrific," with many people starving to death and rape on the rise, World Health Organization (WHO) Director-General Tedros Adhanom Ghebreyesus, himself a native of the region, said in a May 17 press briefing.
Ethiopian Prime Minister Abiy Ahmed launched a military operation on November 4 against the Tigrayan authorities of the TPLF, who are in dissent from the central government.
Mr. Abiy had promised a quick victory in Tigray, but almost six months after the federal army took the regional capital, Mekele, fighting continues in the region, where the critical humanitarian situation is alarming the international community. After months of denial, the Ethiopian government has acknowledged the presence of Eritrean troops on the ground alongside its army, suspected of having been involved in numerous abuses – something Asmara denies.