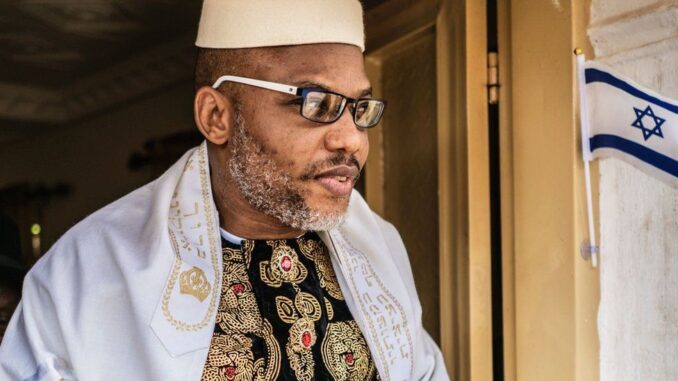 Nnamdi Kanu, the pro-Biafra separatist leader in southeastern Nigeria, has been arrested and "brought back to Nigeria" to face trial on "terrorism" charges after several years on the run, the Attorney general announced Tuesday in Abuja.
"The leader of the Ipob (Independence Movement for the Indigenous People of Biafra) was arrested on June 27" in collaboration with security services whose nationality was not disclosed, said Abubakar Malami, Minister of Justice and Attorney General of Nigeria at a press conference.
Nnamdi Kanu "will be tried on eleven counts including terrorism," Malami said. "He is accused of engaging in subversive activities, including incitement to violence against the Nigerian state and its institutions through messages broadcast on television, radio and social networks," added the Nigerian Minister of Justice.
Nnamdi Kanu was first arrested in October 2015, and was charged with "treason," but a judge granted him bail.
He had disappeared in October 2017 after an army raid on his home. He had reappeared twelve months later in Jerusalem, and then in January 2019 in Britain, but no information was released on the location of his latest arrest. On Tuesday, Nnamdi Kanu was brought before the Court, which authorized his imprisonment and said his trial will be held in July.