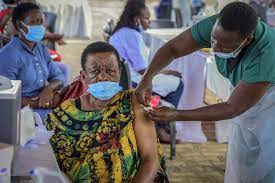 Unscrupulous doctors and nurses, according to the Ugandan authorities, were able to extract millions of shillings from over 800 unsuspecting people and 11 companies. They favored vaccine candidates who were willing to pay for an injection, even though there is a shortage of doses in Uganda.
These people were desperate to be vaccinated. In Uganda, a free vaccination campaign was underway, but there were not enough doses. Between May and June, the country was in the midst of a second wave of infections and these people decided to take the initiative and go in search of vaccines.
It is at this moment that they cross the path of swindlers, unscrupulous doctors and nurses. The latter set up a parallel clinic and wore identity badges with the Kampala city logo, so as not to arouse suspicion. At the time of the injection, the swindlers administer water, the beneficiaries only see fire.
The injection is still charged between 80,000 and 500,000 Ugandan shillings, or between 20 and 140 dollars. All this money disappeared with the swindlers, who are now on the run. The authorities have asked the population not to worry, and have ruled out any risk of side effects.
Observers on the ground nevertheless point out that there are people who received these fake vaccines, thinking they were protected, but they ended up contracting the virus and some died. At this stage, it is difficult to put a figure on the human toll of this scam.