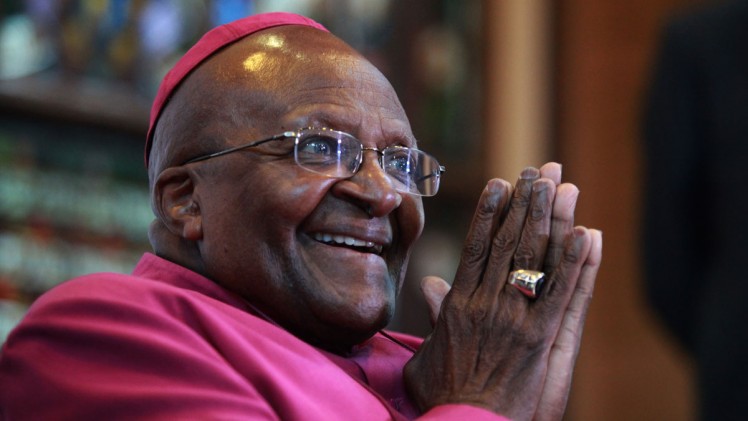 It is the last of this generation of icons of the fight against apartheid: Archbishop Desmond Tutu, the conscience of South Africa but also a mischievous and powerful laugh, died Sunday at 90 years.
Until recently, the Nobel Peace Prize winner used his small, round figure and legendary outspokenness to denounce injustice and flay all powers.
President Cyril Ramaphosa expressed his "deep sadness at the death" of this "unparalleled patriot" when he announced the news in the morning. His death "is another chapter of mourning in our nation's farewell to a generation of exceptional South Africans who bequeathed to us a liberated South Africa.
"A man of extraordinary intelligence, integrity and invincibility against the forces of apartheid, he was also tender and vulnerable in his compassion for those who suffered under apartheid, and for the oppressed and oppressors around the world," Ramaphosa said.
After the advent of democracy in 1994, and the election of his friend Nelson Mandela as president, Desmond Tutu, who gave South Africa the nickname "Rainbow Nation", had chaired the Truth and Reconciliation Commission (TRC) which he hoped would turn the page on racial hatred.
The Arch, as he was affectionately known by South Africans, had been weakened for several months.
He no longer spoke in public but greeted the cameras present at each of his movements, smiling or looking mischievous, during his vaccination against Coronavirus in a hospital or recently, in October, during the religious service in Cape Town to celebrate his 90th birthday.
The Mandela Foundation called his loss "immeasurable": "He was larger than life (…) He was an extraordinary human being. A thinker. A leader. A shepherd".
Desmond Tutu gained notoriety during the worst hours of the racist apartheid regime. As a priest, he organized peaceful marches against segregation and advocated for international sanctions against the white regime in Pretoria.
His robe saved him from prison. His non-violent struggle was awarded the Nobel Peace Prize in 1984.