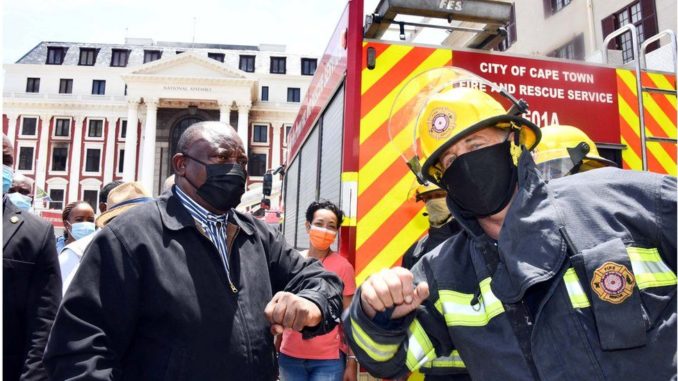 South Africa begins 2022 without a parliament. A fire destroyed the parliamentary complex in downtown Cape Town on Sunday, January 2. The buildings are classified as a historical site by South Africa. A 49-year-old man was arrested and is due to appear in court on Tuesday.
It is not known what started this fire, and it raises many questions in the country. For the moment, the authorities are not sure whether it was an accident or a crime. Fire suppression devices did not work to prevent the fire, including an automatic sprinkler system with closed valves, authorities said.
This Monday morning, there are still a handful of firefighters who finish putting out the last embers, the fire being now under control. The facade of the Parliament, with its red bricks and white columns, is still intact, but inside many parts have been ravaged. The roof is almost completely destroyed.
The parliamentary complex housed many valuable items whose fate is not yet known, including a 120-metre long tapestry depicting the history of the Eastern Cape. The parliamentary library was not affected, thanks to a firewall system installed just after the fire last April that devastated the University of Cape Town library and many of its valuable books.