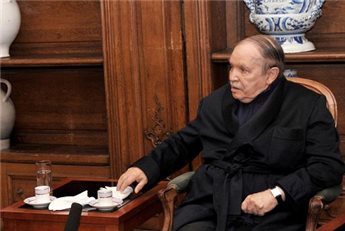 Algerian President Abdelaziz Bouteflika, the aging independence veteran who suffered a stroke last year, has finally ended months of speculation over his political future by announcing he will run for re-election for a fourth term in the April 17 election – after 15 years in office. Meanwhile, his rivals say the 76-year-old Bouteflika is too frail to govern, with one opposition leader even calling for Bouteflika to show his medical records before seeking office again. The vote is widely expected to likely  hand him a fourth term in power.
Algeria's Prime Minister Abdelmalek Sellal, who is expected to run his campaign, announced recently (22 February) that "Bouteflika will be a candidate" and added that "Bouteflika's decision to run comes at the insistence of the people and after some deep reflection." Sellal's announcement seems to have ended months of speculations over Bouteflika's future after his stroke last year put him in a Paris hospital and intensified debate about a political succession after his 15 years in office. Obviously responding to the opposition's criticism about Bouteflika's frail health condition, Sellal also said that "[Bouteflika] does not need to campaign himself, there are men who can campaign for him."
With the backing of the ruling National Liberation Front (FLN) party, unions and other FLN allies, Bouteflika is almost assured of re-election. Opposition parties still remain weak. Loyalists generally see Bouteflika as the man who gave Algeria peace and economic stability after a civil war with Islamists in the 1990s that killed about 200,000 people. Many Algerians are concerned about any upheaval after their country's own bloody experience and also while watching the Arab Spring series of uprisings that have in the last three years affected and relatively destabilized other countries in the region. But critics say Bouteflika, rarely seen in public since he returned from treatment in France last year, is too ill to run and should allow a new generation of leaders to take over. Since gaining independence from France in 1962, Algerian politics have been dominated by senior FLN leaders and military officers, known in French as "Le Pouvoir" (the Power), who often struggle for influence behind the scenes.