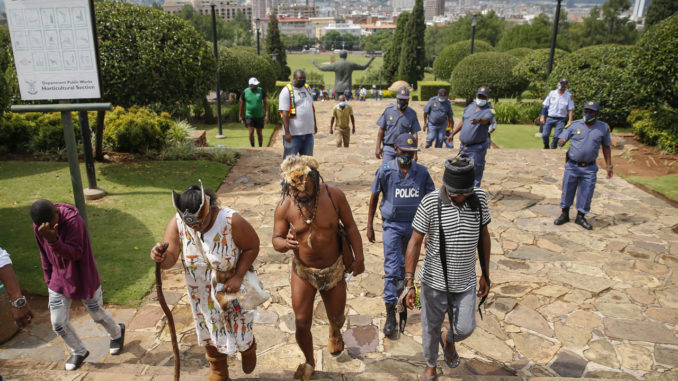 A "king" of an indigenous community in South Africa was arrested Wednesday outside the presidency in Pretoria, where members of the Khoisan people have been planting cannabis and camping for three years in protest.
A handful of them have been installed since 2018 under simple tarpaulin tents on the presidential lawn, at the foot of an imposing statue of Nelson Mandela. They are demanding official recognition of their languages and land.
Dressed in a loincloth, one of their representatives who calls himself "King Khoisan" was arrested while clutching a cannabis plant more than a meter high: "You have declared war," he shouted at the police who removed the plantation.
The consumption and possession for private use of cannabis, called "dagga" in the country, has been tolerated since 2018. But its use in public and marketing remain punishable by law.
About 20 police officers, some in riot gear, others on horseback, were mobilized.
During the raid, another activist incredulously asked in Afrikaans, the language of the descendants of the first settlers derived from Dutch, if the whole operation was really aimed at "the plants", calling the officers "scum in uniform".
Police confirmed in a statement Wednesday that four people aged 22 to 54 had been arrested: "They are charged with drug trafficking, illegal planting and cultivation, and failing to wear a mask in a public place.
Long referred to as Bushmen, the Khoisan were called Hottentots by Dutch settlers who arrived in South Africa in the 17th century, in reference to their clicky languages.