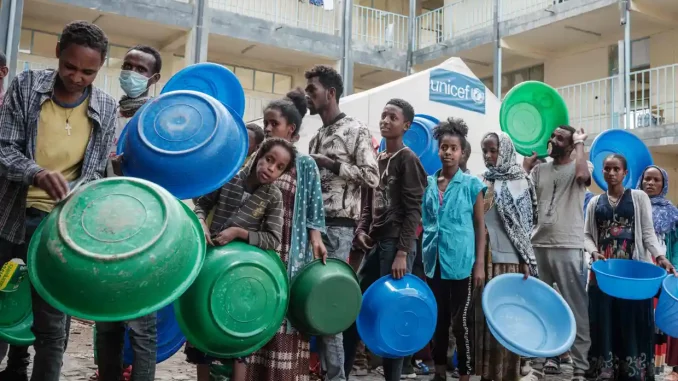 The Ethiopian government declared an "indefinite humanitarian truce" in its conflict with rebels in Tigray on Thursday, to allow "the free flow of humanitarian aid to those in need of assistance" in this far northern region of the country, threatened by famine.
The truce is "effective immediately," Prime Minister Abiy Ahmed's government said in a statement, explaining its decision by "the need to take extraordinary measures to save lives.
However, "the commitment made by the government of Ethiopia can only have the desired effect (…) if the other party does the same," it continued, calling on the tiger rebels to "refrain from any further acts of aggression and to withdraw from the areas they occupy in the neighboring regions of Tigray. There was no immediate reaction from the Tigrayan rebels to the announcement.
Pro-government forces and Tigrayan rebels have clashed in northern Ethiopia since November 2020, when Abiy Ahmed, who won the Nobel Peace Prize the previous year, sent the federal army to dislodge the authorities in the region, which was then governed by the Tigrayan People's Liberation Front (TPLF), which had been contesting its authority for months.
In Tigray, the WFP estimated in January that 4.6 million people, or 83 percent of the region's estimated six million inhabitants, were "food insecure," while two million suffered from "extreme food shortages. Since mid-February, humanitarian operations in Tigray – where more than 400,000 people have been displaced by the conflict – have been virtually halted by fuel and cash shortages, according to the UN.
No aid convoys have been able to enter Tigray since Dec. 15 because of fighting in the Afar region, which prevents their passage on the only operational land route between Semera, the capital of Afar, and Mekele, the capital of Tigray. The UN has long denounced a "de facto humanitarian blockade" of Tigray, for which the government and the rebels have blamed each other.