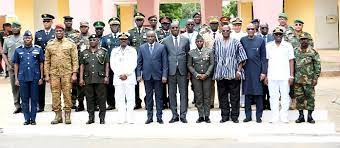 The chiefs of staff of the Community of West African States (ECOWAS) held a two-day meeting in Accra Thursday and Friday to debate defence and security matters and means of strengthening military cooperation in the region plagued by growing insecurity.
The extraordinary meeting also provided participants with the opportunity to find amicable solutions towards the activities of violent extremist organizations, terrorist armed groups and transnational organized criminal networks.
Mali, Burkina Faso and Niger are grappling with terrorist insurgencies and neighboring states such as Ghana, Benin and Côte d'Ivoire are concerned about spillover to their borders.
Addressing representatives of the Joint Chiefs of Staff in Accra, Ghana's Defense Minister Dominic Nitiwul spoke of armed and criminal groups fueling the rise in insecurity, underlining that the sub-region had been saddled with complex transnational crimes committed both in the physical and cyber domains.
Terrorist activities have taken cross border dimensions with far reaching implications for civil societies, regional security and global peace and development, he said.
Nitiwul said that in three years, the region has suffered more than 5,300 attacks attributed to terrorists, which have left about 16,000 people dead and millions displaced.
At the end of the first quarter of this year, there had been 840 attacks within the sub-region which had resulted in 2,482 casualties, he pointed out.
Ghana's Defense Minister called for more intelligence sharing to better monitor terrorist groups. "As professionals, we must resolve to bury our differences imposed by nationality, culture ethnicity, language, religion and forge ahead with greater collaboration," he insisted.
He deplored that there was currently a limited collaboration among various national intelligence agencies across the sub-region that had resulted in a serious limitation in the fight against the activities of terrorist armed groups, and violent extremist organizations.
"These groups rather have increased collaboration and information sharing across national borders in a bid to outwit security forces and impose their will on the population."
"The maintenance of peace and security in our various jurisdictions remains a critical challenge and as Chiefs of Defense Staff in your respective countries you have a pivotal role to play in shaping the defense and security policies needed to achieve regional peace and public safety," he insisted.
Mr Nitiwul said it was necessary to bridge the gaps that existed in information and intelligence analysis, to pave way for better integration for effective political, social and military direction.
"This is a good way to do things, to make sure we work together to stop the threat of terrorism in our sub-region," he added.
After military coups in Mali, Burkina Faso and Guinea, ECOWAS suspended these countries from its bodies and imposed economic sanctions. But it allowed representatives of the three countries to attend the meeting because of the urgency, Nitiwul said.