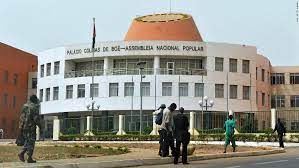 Speaker of the People's National Assembly of Guinea-Bissau, Cipriano Cassamá, began on Tuesday to hear the parties with parliamentary seats in order to try to reach a political consensus on the expiration of the direction of the National Elections Commission, said a source in parliament.
According to the same source, the Speaker of the People's National Assembly (ANP) would meet with the New Democracy Party, the Union for Change and the Assembly of the United People — Democratic Party of Guinea-Bissau, led by the Guinean Prime Minister.
Cipriano Cassamá would afterwards meet with the Social Renewal Party, the Movement for Democratic Alternation (Madem-G15) and the African Party for the Independence of Guinea and Cape Verde (PAIGC).
The president of Guinea-Bissau's National Elections Commission was elected in March 2018 for a four-year term, but has since left the post to take up duties as president of the Supreme Court of Justice.
According to the National Elections Commission law, that body is composed of an executive secretariat, a representative of the President of the Republic (in the legislative and municipal elections), a representative of the Government, a representative of each of the parties or coalition of parties, a representative of the National Media Council, and a representative of each presidential election candidate.
In the case of the executive secretariat, which is the permanent collegial body of the board, it is composed of a president, an executive secretary and two deputy executive secretaries, who are "elected by two-thirds of the members" of parliament in full office for a four-year term renewable for an equal period.
The Guinean president dissolved the National Assembly in May and scheduled legislative elections for December 18, but the government, after meetings with political parties, proposed that these be postponed until May.
Umaro Sissoco Embaló has not yet announced a new date for the elections and last week he met with some parties with parliamentary seats to try to find a consensus to resolve the CNE issue.