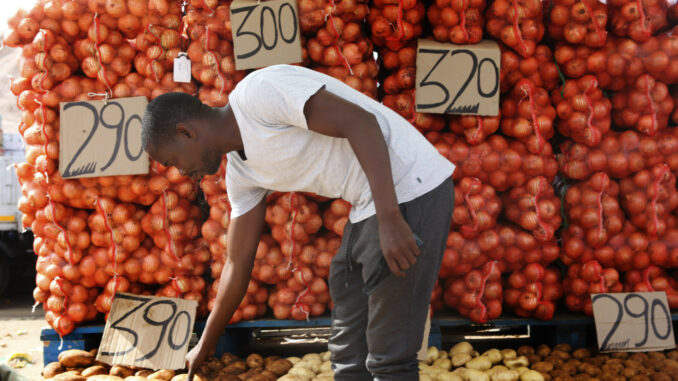 "We anticipate that inflation will gradually slow down to 8.9% by the end of 2023 year-on-year, which will provide room for the Bank of Mozambique to cut interest rates by 50 basis points during this year," analysts of Oxford Economics Africa wrote.
In a commentary on the latest Mozambican inflation figures for 2022, sent to clients, Oxford Economics Africa wrote that "inflation is expected to peak in September and will fall to single digits by the third quarter of this year, in line with an expected decline in commodity prices due to weakening global growth."
Last week, the National Statistics Institute released price rise figures for the past year, pointing to a cumulative increase of 10.91% in December from the previous 12 months and an average of 10.2% during that year.
"Despite the expected moderation in food and energy prices since March 2022 and the stability of the nominal exchange rate, inflation will remain high in the first half of this year due to the base effect, gradually slowing to 8.9% by year's end," the analysts wrote.
Mozambique recorded inflation of almost 11% in 2022, the highest value in six years, the National Statistics Institute (INE) announced. Prices rose 10.91% over 2021, in line with the global inflationary wave.
"From January to December 2022, the country recorded a price increase in the order of 10.91%. "The food, non-alcoholic beverages, and transport divisions were the most prominent," reads the latest Consumer Price Index (CPI) bulletin.
Still, in the monthly analysis, December 2022 was the fourth consecutive month of slowing inflation, after a peak of 12.96% registered in August.
Since October, the CPI bulletin collects data to calculate inflation in eight points of the country, instead of three. In addition to Maputo, Beira, and Nampula, prices in markets and stores in Quelimane, Tete, Chimoio, Xai-Xai, and Inhambane provinces are now also analyzed.
In 2016, the country recorded an inflation rate of 23.67%, falling to below 7% since then and reaching the 10.91% now announced. The Mozambican State Budget for 2023 foresees inflation of 11.5%.