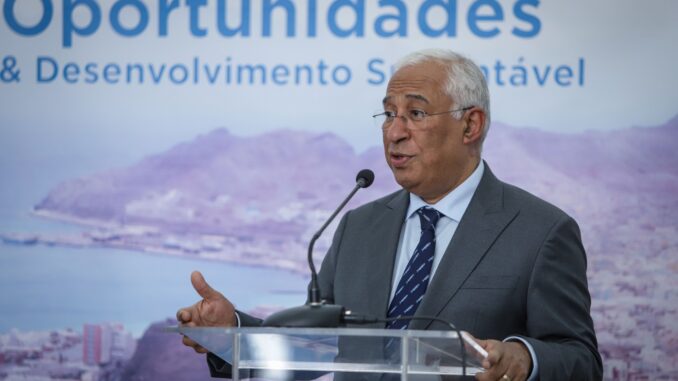 The Portuguese Prime minister António Costa announced on Monday that the entire amount of the amortization of Cape Verde's debt to Portugal will be "fully invested" by Lisbon in the Cape Verdean fund for climate and energy transition. An amount that should reach 12 million euros by 2025.
According to 2021 data from the Cape Verdean government, Cape Verde's debt to Portugal amounted then to more than 600 million euros and with this agreement announced by the prime-ministers of both countries in Mindelo, São Vicente island, on the sidelines of the Ocean Race Summit, every time Cape Verde pays off the global package, this amount will be reinvested in the country by the Lisbon government.
For António Costa, "no country will be sustainable if all countries are not sustainable. It is a job that has to be done together.
"This is why Portugal wants to participate in the fund that Cape Verde is creating for climate and energy transition," investing "the entire amount in the amortization of Cape Verde's debt to Portugal.
"It means, to have an idea, until 2025, we are talking about amounts around 12 million euros and so on it will happen. It is a way of converting a debt into Cape Verde's ability to invest in energy transition, in the fight against climate change and that we can do it together," he explained.
Costa also said that, "beyond the financial contribution, the Portuguese count on being involved, mobilized to contribute in the most diverse domains" where they have energy efficiency expertise.
The head of the Portuguese government pointed out that "climate change is surely the greatest challenge facing humanity today."
"I say today because, in order to achieve the goals to which we have all committed in 2050, this path has to be taken today." In this regard, he mentioned that if Portugal has today 58% of electricity from renewable sources, this was only possible because "this work began more than 15 years ago" and that the next goal is to reach 80% in 2026.
Ulisses Correia e Silva thanked the presence of António Costa, who "brightened" the Oceans Summit, highlighting the sea that both countries share. "Portugal also has the sea as a very important resource, in terms of breadth and scope, but also in terms of strategy. In this perspective we converge. We are much more sea than land, 99.3% of our territory is maritime, the size of Texas.
The Cape Verdean Prime Minister recalled the goals in terms of sustainable development, namely the ongoing energy transition that should, by 2030, translate into more than 54% of all production through renewable energy. "We have every reason to go further," he said, recalling that these steps will have an impact on the energy bill, since Cape Verde currently imports about 80% of the fuel it consumes.
"We have sun, sea, wind, all the conditions to put a very strong priority on energy transition," he noted. The Ocean Race Summit is part of the Ocean Race's first visit to Cape Verde and brings together today in Mindelo, São Vicente island, politicians, governments, experts and other personalities to address the future of the oceans.