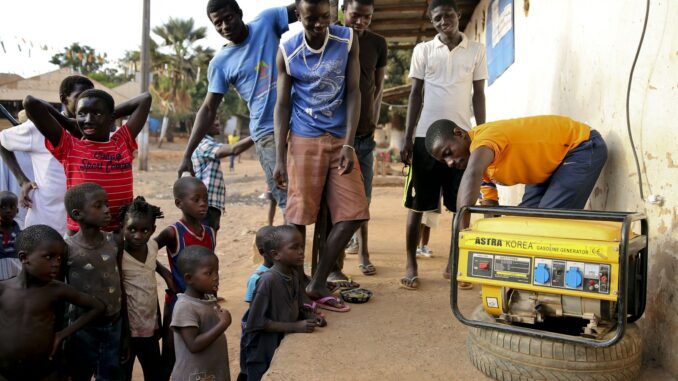 The government of Guinea-Bissau clarified that the power cuts that have been occurring in the Guinean capital are not related to the lack of payment to the Turkish company, which supplies electricity to the city.
Debt exists and is currently being paid. The Public Treasury has disbursed until recently more than $4.6 million to partially settle the debt that EAGB [Electricity and Water of Guinea-Bissau] has with Karpower," said Mamadu Baldé, Secretary of State for the Treasury.
Baldé was speaking after a meeting with the management of EAGB, a company that is being managed by the consortium made up of EDP, Águas de Portugal and Leadership Business Consulting under a contract with the World Bank.
The supply of electricity to Bissau is made via the floating power plant of Turkish company Karpower.
"But, I insist, the breakdowns that have been occurring in the network are technical. There is no connection between the cuts due to technical failure and the delay in payment", said the Secretary of State.
According to the governor, there were seven overdue invoices and the Government paid two on Thursday, leaving five unpaid, but a letter of credit already covers three, stressing that the Turkish company still needs to be paid another $3.8 million.
Questioned whether the company should be the one to assume the payments, the Secretary of State for the Treasury said that it was "good to know if what the clients pay is enough to face the treasury expenses".
"EAGB has a monthly budget deficit of 1 billion cfa (1.5 million euros) said Mamadu Baldé, adding that there is a cash flow problem, which can only be solved with the increase of revenues. He reminded that the State is the owner of the company, since it is the only shareholder.
The general director of EAGB, Mário Pereira, said he knows that it is "always a problem for customers when basic goods are missing," but that it is a constant concern of EAGB to guarantee the supply of essential goods. "We are in a process of renovating the network. The networks, whether for water or electricity, are quite old. We, with international partners, are renewing this network and creating conditions for improved supply, this takes time and we at this stage are in a period of infrastructure maintenance," said Mário Pereira, ensuring that the company is committed to minimizing technical and operational problems.