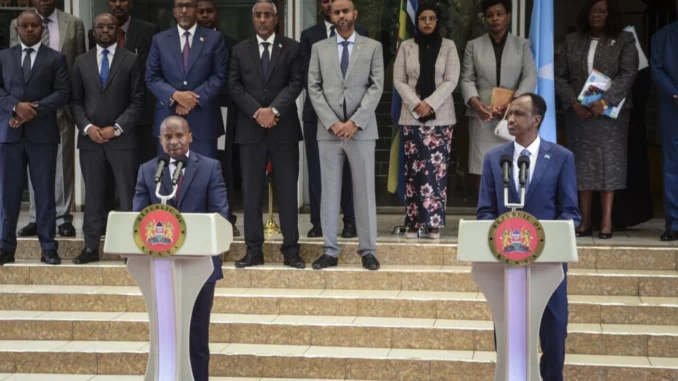 Kenya and Somalia announced Monday an agreement to reopen at three points by July 1 their land border, officially closed since 2011 due to the insurgency of radical Islamists Shebab.
The announcement came after a meeting in Nairobi between delegations of ministers from the two countries on issues of cooperation on security, trade and movement of people.
"We are looking at the possibility of reopening the border and we have decided that the border between Somalia and Kenya will be reopened in a phased manner over the next 90 days" via three border crossings, Kenyan Interior Minister Kithure Kindiki said at a joint press conference.
The Mandera-Bulahawa border post "is to be opened within the next 30 days," he said, followed by the Liboi-Harhar border post "within 60 days from today" and the Kiunga-Ras Kamboni border post on July 1.
In addition to these three points in the Kenyan counties of Mandera, Wajir and Lamu, "we are also looking at the possibility of adding a fourth border post" in Wajir County, he added. Last July, the two countries announced their intention to reopen the border, but this never materialized.
The 700-kilometre-long border between Kenya and Somalia was officially closed by Nairobi in October 2011 in an attempt to stem attacks by radical Somali Islamists on Kenyan soil, including the kidnapping of foreign tourists and aid workers. The Kenyan army intervened shortly afterwards in Somalia to fight the Shebab. Its forces then joined the African Union force in Somalia (Amisom, now Atmis) in 2012, which drove the Shebab out of several of their strongholds.
Since 2011, Kenya has been the target of several deadly attacks claimed by the Shebab, including against the Westgate shopping mall in Nairobi (September 2013, 67 dead), Garissa University (April 2015, 148 dead) and the Dusit hotel complex (January 2019, 21 dead).
Many other smaller attacks regularly target police and civilians near the border. The two countries, nominally allies in the fight against the Shebab, have a tumultuous relationship. Somalia has regularly accused Kenya of interference, while Kenya has accused Mogadishu of seeking a scapegoat for its internal problems. Somalia severed diplomatic relations with Kenya in December 2020, which were restored in August 2021.
The two countries have also argued over the delineation of their maritime border in the Indian Ocean. In October, the International Court of Justice, the UN's main judicial body, ruled in favour of Somalia, granting it a vast 100,000 square kilometers area rich in fish and potential hydrocarbons. Kenya has officially rejected this decision.