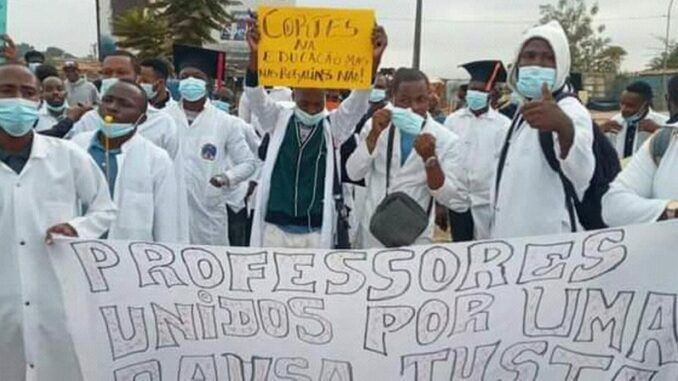 The Angolan National Teachers Union (Sinprof) is threatening to go back on strike over the government's failure to apply a 12.5% subsidy, which should have been implemented in March, but so far has not taken effect.
According to the secretary-general of Sinprof, Admar Jinguma, the provincial secretaries will meet in the next few days "to decide the course of action" in June, "if by the payment of the May salary" the subsidy "is not effective".
"Because we certainly won't wait any longer", Admar Jinguma said. The union leader stressed that the parties met in December of last year and January of this year, with the Government's commitment to implement the new pedagogical innovation allowance of 12.5%, with immediate effectiveness in March.
the leader of Sinprof referred that, at the time, the executive team constituted by the Ministries of Education, Labor and Finance, said that the subsidy "would be implemented immediately, dispensing with the bureaucratic formalities, which would only be seen 'a posteriori', when the alteration of the remuneration statute for education agents was being dealt with".
Admar Jinguma stressed that after the decree was approved by the Council of Ministers in April, it has yet to be published in the Official Journal, almost a month later.
"We don't understand how the decree that refers to the materialization of a commitment, assumed above in the negotiation table for implementation in March, a commitment assumed five months ago and until now there is no light for its implementation", he added. According to Admar Jinguma, the teachers have already noticed that in the correction sheets, May salary sheets, "the new subsidy hastily arranged by the executive" still doesn't appear.
Jinguma noted that the teachers claimed a 22% pedagogical innovation allowance, but the executive arguing that it cannot afford it, "made a fix by inventing a new allowance that it decided to call an attendance premium," he said 12.5%, "which is taking forever to implement." The teacher pointed out that they have been waiting for five months, remembering that a moratorium was granted on December 24, 2022, leading to the non-effectuation of the third phase of the strike, scheduled for January 3rd of this year.