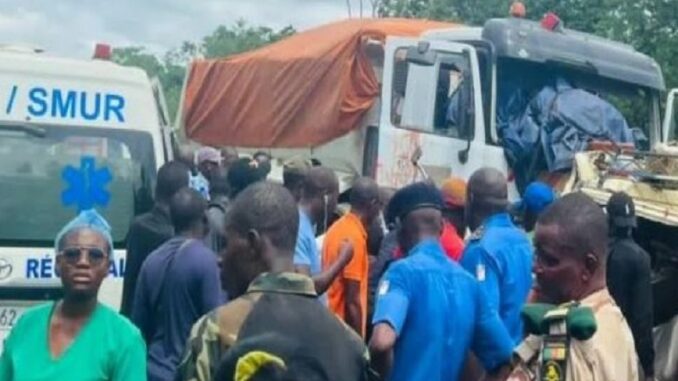 Fifteen people accompanying the body of a relative to his funeral were killed this weekend in Cameroon in a collision between their minibus and a truck whose driver also perished, the Minister of Transport announced.
The roads of this Central African country are regularly plunged into mourning by fatal accidents involving public transport, particularly the Nationale 3 (RN3) linking Yaoundé to the economic capital Douala, the scene of this latest tragedy.
"Sixteen people died in the accident, including 15 in the bus and one in the truck", and three occupants of the minibus survived but were injured, announced Jean Ernest Masséna Ngallé Bibéhé, Minister of Transport, on state radio CRTV. He was speaking from the scene of the accident in Edea, an industrial town some 80 km east of Douala.
"The minibus was transporting a body", added the Minister, without yet being able to say more about the causes of the head-on collision between the two vehicles. CRTV reported that the passengers were relatives or close friends of the deceased whom they were going to bury.
The RN3 is dotted with potholes and lined with embankments in a sorry state, but vehicles – particularly public transport vehicles, which are often crowded – travel at high speed, with drivers sometimes overtaking in perilous conditions.
This latest tragedy comes 16 days after 15 passengers died on a bus that rolled over twice after going off the road in the east of the country. The accident also left 68 people injured.