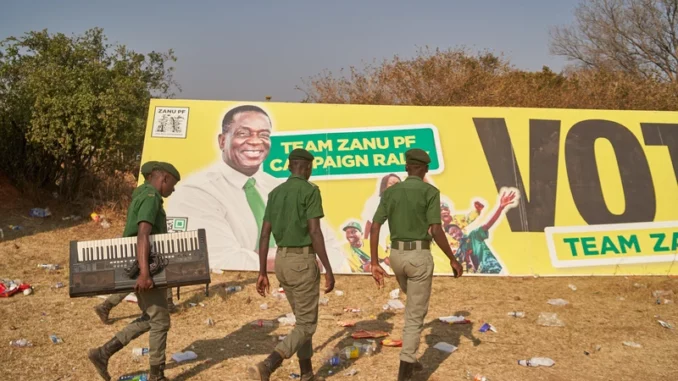 On Tuesday August 15, in Zimbabwe, forty opponents were arrested a week ahead of the presidential and parliamentary elections, during a campaign parade in a suburb of the capital Harare, according to the main opposition party and the Police.
On August 23, the southern African country will hold elections that are expected to be tense. President Emmerson Mnangagwa, who is standing for re-election, has for months been accused by the opposition of increasing repression.
Forty members of the Citizens' Coalition for Change (CCC) "were arrested as they moved along the road in procession", CCC spokeswoman Fadzayi Mahere told media. Some stood in the back of vans, others marched on foot, according to images shared on social networks.
In a statement, the police confirmed the arrest of "40 CCC activists" for public order offences. According to the police, the opponents did not respect the perimeter declared to the authorities for the campaign operation.
At the polls next week, Mr. Mnangagwa, 80, will face Nelson Chamisa, a 45-year-old lawyer and pastor, as head of the CCC. Last week, the Coalition denounced "political violence" in the run-up to the vote, but Mr Chamisa has vowed not to give up.
The landlocked country has been ruled by the same party since independence in 1980, and there are frequent suspicions of electoral irregularities. In a recent report, Human Rights Watch denounced a "severely flawed electoral process" ahead of the forthcoming polls. The NGO accused the police of being "partisan" and of using "intimidation and violence against the opposition".