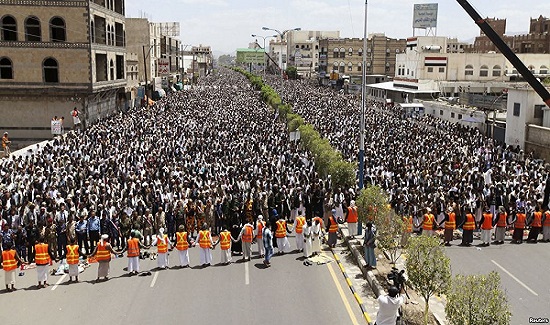 The situation in Yemen is worsening after the Houthis declared on Monday that they have pulled out of the negotiations with the government due to "foreign intervention" in the talks. Clashes between Houthi rebels and pro-government forces have been intense in the capital and they have left at least 50 people dead. Reports are claiming that the rebels are gaining grounds around the capital. There are fears that the violence could escalate into a sectarian war.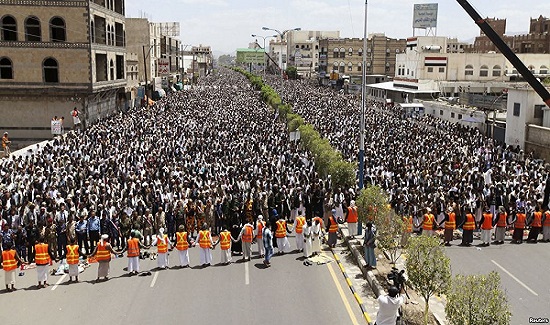 The Houthis are Shais. They have been involved in a decade-long conflict with the Sunni-dominated government for more control of the northern part of the country. The Houthi protest turned violent recently after the occupation of certain areas of the capital for several weeks. Hundreds of rebels are flocking in to the capital helping to take absolute control of the Shamlan and Wadi Dhahr districts, on the outskirts of the capital, on Thursday.
A military source said Houthi gunmen attacked an army camp on the southern entrance of the capital but they were pushed back by the army.
On Wednesday, Yemeni Foreign Minister Jamal Al-Sallal acknowledged at a high-profile regional security conference in Riyadh that "political, security and economic challenges are hampering peace and reconciliation efforts in Yemen despite support extended by Arab and Western allies." He claimed that the Ansarullah movement, organizer of the Houthi protests, is a security challenge to authorities.
The Houthi rebels have also turned their attention to Sunni related institutions as they target buildings owned by the Sunni Islah party, including the Iman University, which has been surrounded. Such actions could easily turn a politically motivated protest into a sectarian war if the personnel are harmed or damages done to the buildings.